Five years ago, you could still find on eBay and other platforms original Double Mint sets with brilliant toning. You could snare equally colorful coins in Tidy House and American Savings holders. Genuine bankrolls often display rainbow coins on both ends.
Those days may be over.
I wrote about "The Great Coin Swap" in 2018, focusing on how unscrupulous sellers opened and reglued sealed Proof and Mint sets. I did alert viewers to be on the lookout for swapped Double Mint sets and Tidy House dollars.
This post is about the current sad state of affairs, especially on eBay, for swapped-out coins, often mismarked or erroneously described.
To understand the situation, you might first want to scan my previous posts on "Dubious Double Mint Sets" and "Buying Coin Rolls Online."
I have been searching eBay almost daily for years on their double mint set offerings because those coins often tone in beautiful hues, such as these, which I sent to PCGS for holdering:
You would be hard-pressed to find these coins today.
Let's review coins searched in one day on eBay. None had spectacular toning. This Tidy House 1964 Kennedy half dollar board had rainbow coins, but the Denver one looked chemically altered. The Philadelphia one may be original, but if you spot one artificially toned coin, chances are both may be. So, I didn't bid on this.
The 1958 Double Mint Set has 20 coins on a green paper attached board. Here's an example:
Here's a set described as "1958 P D Double Mint Set with Original Packing Envelope" selling for the high price of $295:
The obvious problems here are the missing coins (two 1958 halves) and the wrong boards. The latter was a dead giveaway. These are 1955 Double Mint Set boards, and there should be one more in the 22-coin set: the S-Mint cents and dimes. Here's one from the APMEX coin website:
On closer inspection of the mismarked mint set, indeed, I saw these were 1955 coins, not 1958 ones:
There were other swapped-out coins in a quick eBay search. This 1958 Double Mint Set had 1956 Mint Set boards:
The $999 listing price is inflated. The coins looked mostly original, but again, if the boards are wrong, the coins have been swapped out. So again, I would make no offer, and if I did, it would be slightly above silver melt, or $170.
Original bankrolls should feature toned end coins and should not have the look of being opened, as in this case:
I won this original 1967 roll in a Hibid auction. To give you an indication of how it should look:
You also find swapped-out coins in Littleton felt cases. Here's a reminder from me from a previous post to show swapped-out versus originally toned coins.
You can still find original Littleton rainbow sets like this on Hibid, but they are vanishing quickly there and on eBay. I used to buy these for less than $200. Here's an original lightly toned one on eBay selling for over twice that much.
You can still find original American Savings Morgan dollars on eBay, probably from a few sellers who have a hoard. This is how one should look, selling for $499.95:
This is originally toned primarily because the case is cracked, as many are; the crack allows air to mingle with cardboard, resulting in vivid tones. The above coin also looks MS-64 or better. But the price for me is a bit too great. I did pay $350 for this American Savings Morgan, holdered later by PCGS at MS-64: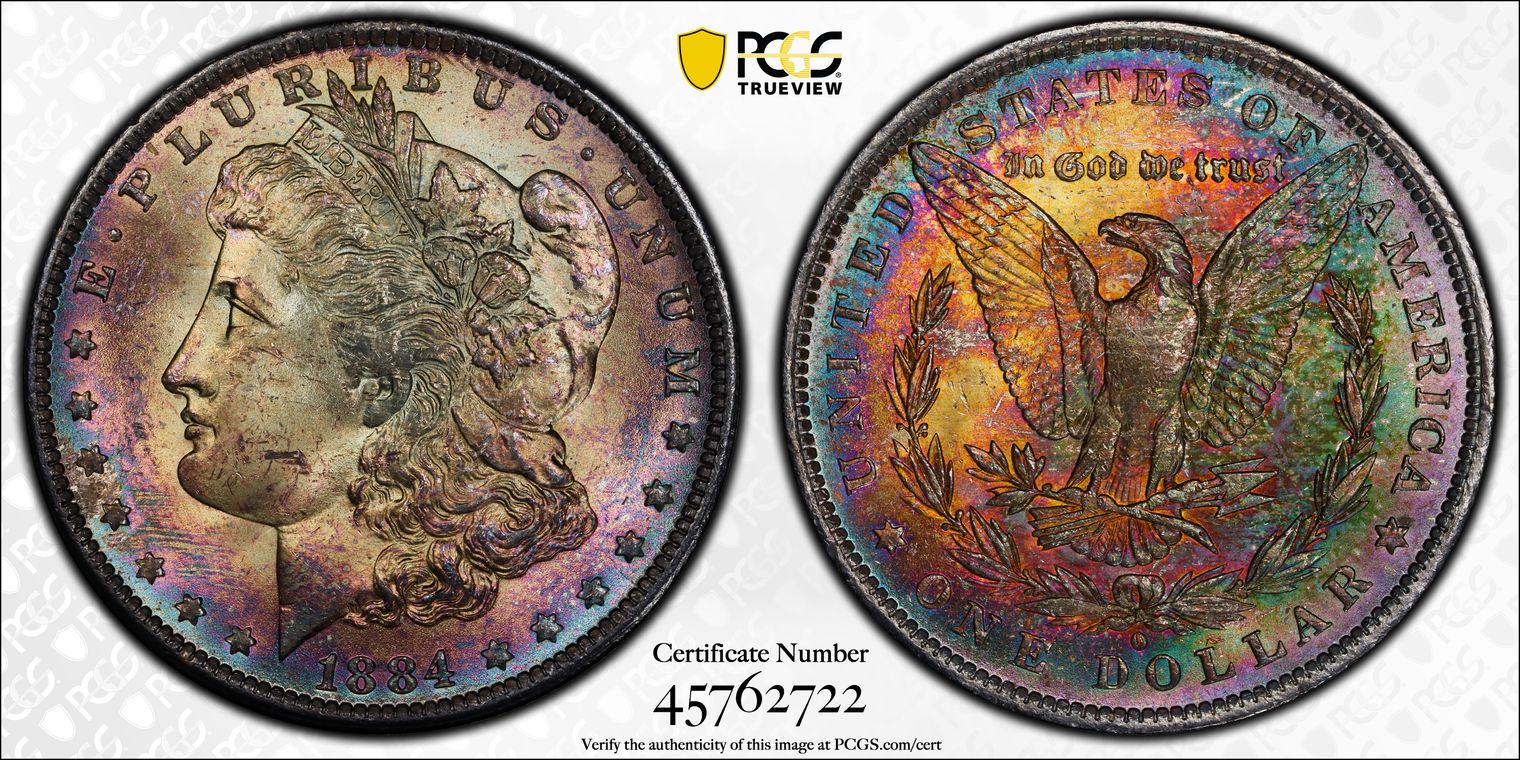 This one is a swapped-out American Savings example:
I wish I could report that eBay, HiBid, and other platform coins are mostly authentic. I am finding few worth a bid this year. Many original Mint sets, rolls, Tidy House, Littleton sets, and American Savings coins are selling for high prices. Many others are not worth a bid.
Take care when bidding on these types of coins. Know the various boards and dates of Mint sets. Look for no toning or artificial coloring on Tidy House and American Savings holders. Never bid on rolls unless you have photos of each end and the wrapper, and make sure the rolls haven't been tampered with.
As always, numismatic knowledge is key when bidding on raw coins. Perhaps this tutorial will help you when looking for bargains online.
❑