Many auctioneers on HiBid, Proxibid, eBay, and other venues know I will call out fakes, replicas, souvenirs, and tokens when the seller lists them as California fractional gold coins.
I wrote about this for Coin Update, most recently in July 2021, calling out this seller who lists this fake as being worth $1, 275.
But I also wrote about it here in 2013, stating:
We continue to see fake and replica California gold being offered on eBay, Proxibid, and other online coin portals. These copies have been plaguing the hobby for decades and are being offered regularly to bidders believing they are buying pioneer fractional gold.
I wrote about this several times for Coin World, but my earliest alert was in 2012 on my now-defunct site, Proxiblog.
In each article I make the same points:
Check out the expert Mike Locke's website for descriptions of fractional gold, tokens, and more. Locke describes the history of these coins:
Congress passed 2 coinage acts in 1864 that effectively banned privately produced coins, but the law was not fully enforced until 1883. During the period of partial enforcement of the coinage act of 1864, one mint tried using gold rush era dates in order to avoid attracting attention. Although production was more-or-less stopped in 1883, it resumed in 1884 with pieces that lacked a dollar value claim on the design. These later pieces are called tokens by the collecting community. The backdating practice of 1864-1883 was adopted by most mints in the post 1883 time frame.
I also advise hobbyists to avoid any replicas with a poorly designed bear on the reverse, as these are typically replicas or souvenirs.
Here's one on Hibid, described as "1856 CALIFORNIA 1/4 GOLD COIN":
I wrote the seller: "Not from 1856. Not from California. Not gold. Not a coin. Every word in the description is wrong."
HiBid doesn't have a main oversight protocol like Proxibid or eBay. So you'll be dealing with the seller if you point this out, and often they will be angry or obstinate. Doesn't matter. Continue to report.
I also have noted in previous posts that true California small denomination gold coins, struck from 1852 to 1882, come in denominations of quarter dollar, half dollar, and dollar. All have the inscription "DOLLAR" or abbreviations "D." or "DOL."
A second kind, California gold tokens, were privately minted on gold planchets until around 1871 and usually depict a miner or other Western scene on the reverse. Here's one described on the NGC site:
A third kind concerns California jeweler's charms, which are made of gold and sold as souvenirs of the West typically in the 1930s. Here's one that sold on Heritage (note the words "1872-Dated," advising that 1872 is not the real date).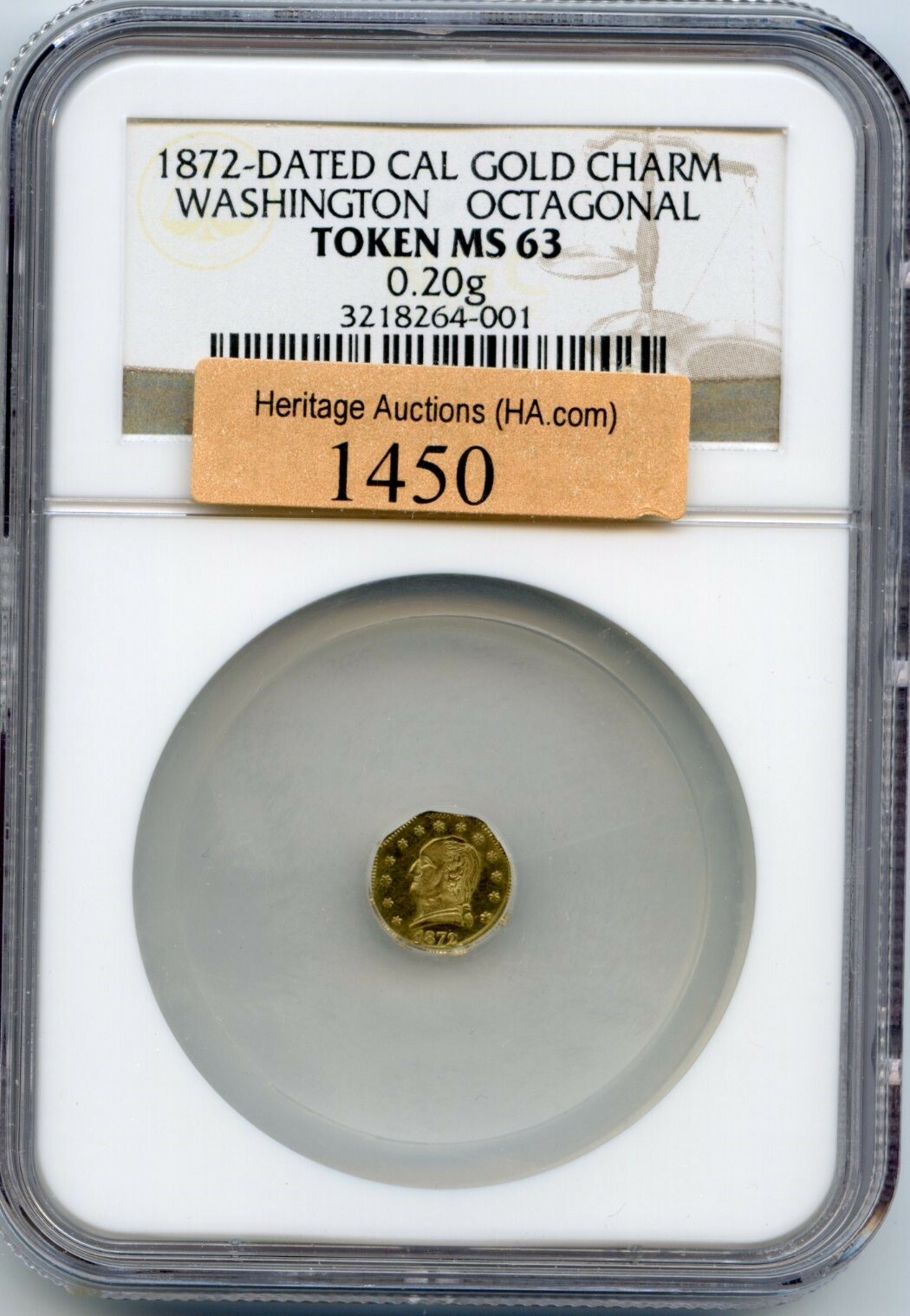 The best way to check about authentic California fractional gold is to go to the PCGS databank titled "California Fractional Gold Price Guide," listed by "BG identification number." The "BG" refers to Walter Breen and Ron Gillio, authors of California Pioneer Fractional Gold.
If you go to HiBid.com and search for "California Gold," you'll find fakes, tokens, souvenirs, and replicas listed under that false description. HiBid allows you to contact the auctioneer. I have done so with this and other fakes:
I encourage you to do the same. That's the goal of this post. If more hobbyists write or report sellers, we can eliminate some of these. So if you do not know about fractional gold, do learn about them from my past articles or from Mike Locke's website. Identify the hyped and fake lots. Notify the seller.
You can do this easily on eBay:
If you know about California fractional gold and can identify its BG number, you can make a score. Here's one of my recent ones won with a $305 bid that graded MS-64 on PCGS, worth $700 with only three higher.
When you make a report to Proxibid, HiBid, eBay, or another site, feel free to include the URL of this post as verification.
❑