During my decades of collecting, I often sought and bought Eisenhower dollars, commonly called "Ikes," and struck from 1971 through 1978 in a variety of compositions and finishes. "I Like Ike" was the famous 1952 slogan for then-presidential candidate Dwight D. Eisenhower. I was born in 1952 and still like Ikes.
There are all manner of Eisenhower dollars, including clad ones throughout that span, including the bicentennial 1975 ones dated 1776-1976. The reverses of these two types differ. Conceived by chief engraver Frank Gasparro, regular dollars feature an eagle and the Apollo moon landing. The bicentennial dollar features the Liberty Bell and the moon. This design is part of numismatic lore. In 1973, the U.S. Treasury Department hosted a contest for the quarter, half dollar, and dollar coins. Dennis R. Wilson was one of nearly 1,000 people who submitted designs, winning the Eisenhower category. You can read more about Wilson and his design by clicking here.
Here are side-by-side images of the two reverse designs:
You can buy Uncirculated "blue Ikes," minted in San Francisco and dated 1971-74, found in blue packaging. You can buy Proof-struck "brown Ikes," again dated 1971-74, in large, brown-colored packages. These are the first U.S. dollars composed of 40% silver. Here is how the packaging looks:
Completing a 32-coin clad and silver business and Proof collection of Eisenhower dollars is easy and, as such, great for young collectors. The coins are inexpensive and readily available in Internet auctions on HiBid, Proxibid, and eBay. These low-grade examples sold for a few dollars each:
Completing a high-value collection, however, is a challenge. These typically sell for around $300 in internet auctions. Here's an example from eBay:
Business-strike Ike dollars are notoriously poorly minted. Even those available in Mint Sets—where one might hope to find superior coins—have readily evident condition issues, as in these examples that sold as a lot for $5.
But if you look on eBay, which has more Ike auctions than other venues, you can spot good coins, as in this 1972-D example from an Uncirculated roll, selling for $2.98 apiece:
The challenge with advanced Ike collections involves knowledge of the several types and variations. For example, the bicentennial reverses come in two varieties, as illustrated here in PCGS CoinFacts: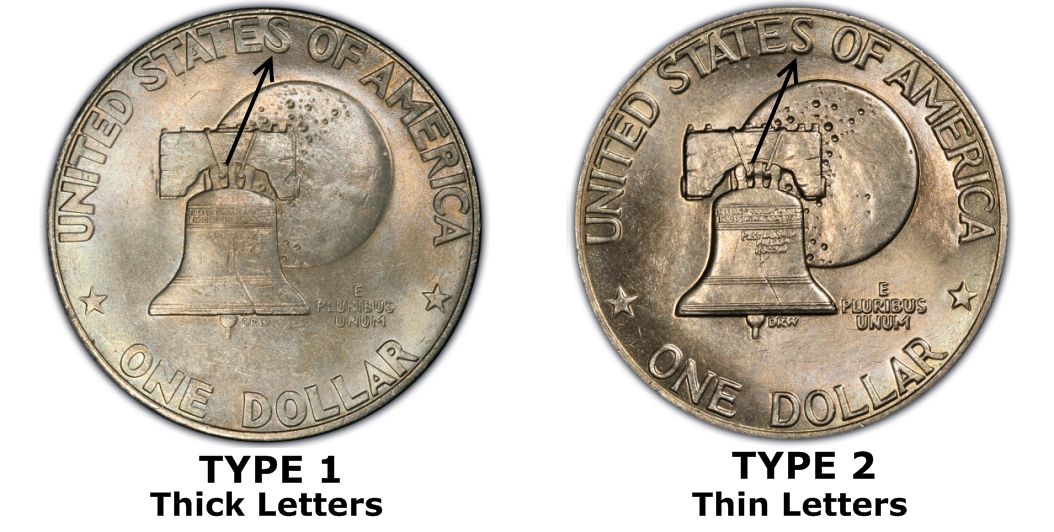 The 1972 business strike has three types, again illustrated by PCGS CoinFacts:
The Type 2 is considered the rarest and is one of the keys to the entire series. You can read a detailed description of the types by Joshua McMorrow-Hernandez on the PCGS site. He states this about the Type 2 variety: "Of the total 75,890,000 Philadelphia dollars produced in 1972, perhaps only 100,000 were made with the Variety II die, and fewer than 40,000 are presumed to survive in a state that can be properly attributed."
This specimen was sold recently on GreatCollections for $1,044.00 with buyer's fee:
Grading Ike dollars is relatively easy due to the large planchet. Hairlines and bag marks are readily visible, and you can check yours against graded ones at PCGS Photograde Online:
Experienced buyers know that brown Ikes often are cloudy in appearance or have milk spots. Here is an example:
Sometimes, though, they can tone marvelously, as in this specimen selling for $110 on eBay: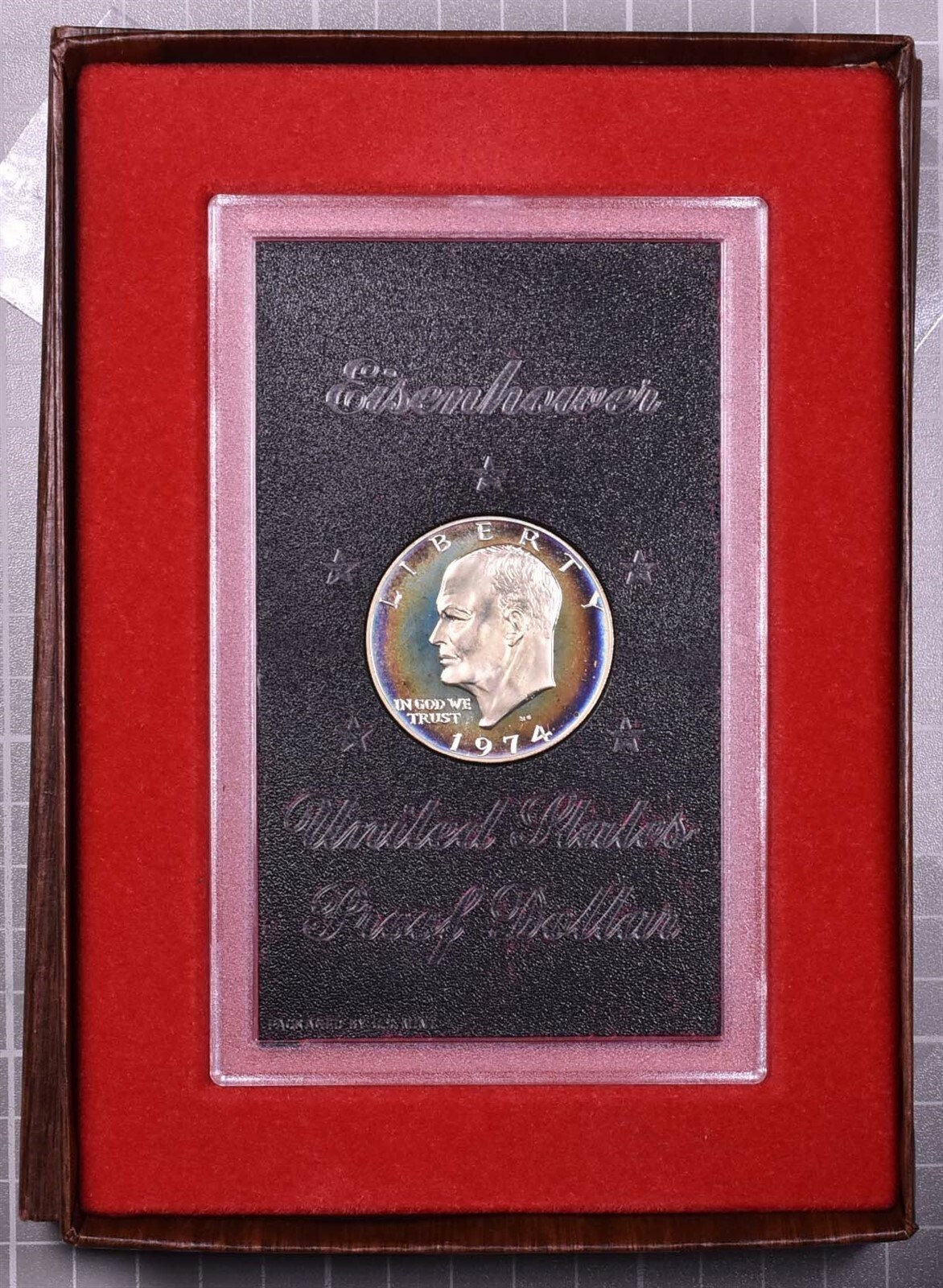 Collecting Eisenhower dollars can be an entertaining activity for new and experienced collectors. If you are one already, why not share your views in the comment section below?
❑