A bill recently became law, which modifies the potential uses for surcharges raised through sales of the 2012 Infantry Soldier Silver Dollars.
Under Public Law 110-357, which authorized the commemorative coin program, all sales include a surcharge of $10 per coin. These surcharges were required to be distributed to the National Infantry Foundation "for the purpose of establishing an endowment to support the maintenance of the National Infantry Soldier Center following its completion."
The bill S. 3363 amended the law by also inserting: "and for the retirement of debt associated with building the existing National Infantry Soldier Center." The bill was passed in the Senate on June 29, 2012, passed in the House of August 1, and signed by the President on August 10.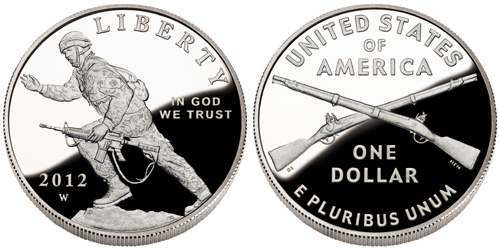 Sales of the 2012 Infantry Soldier Silver Dollar began at the United States Mint on February 16, 2012. The obverse design by Joel Iskowitz features a modern Infantry soldier beckoning other to follow. The reverse design by Ronald D. Sanders features the crossed rifles insignia, which is the branch insignia of the infantry. Available products include an individual poof version, an individual uncirculated version, and the Defenders of Freedom Set, which contains the poof version of the coin in a custom folder with a replica dog tag on a miniature chain.
According to the most recently released figures, total sales across the three options has reached 185,560 coins. Unless a full sell out of the 350,000 maximum mintage is achieved, sales are expected to continue until pre-announced ending date in December.