As regular viewers of Coin Update know, I collect and consign toned coins. I'm good at determining natural vs. artificial toning. I can provide examples, some of which I will share here, in which graders at top-tier holdering companies erroneously designated submissions as questionable.
I have had good and bad experiences at both companies.
I wrote about that in a previous post for Coin Update, which I discussed in my resubmission of a 1922 Peace dollar.
At first, this coin was deemed ungradeworthy with questionable toning:
I resubmitted the coin with an explanation that this is natural toning and to take care when looking at the coin rather than previous questionable toning submissions.
I got a designation:
Here are recent examples from PCGS, which designated these coins as "questionable toning."
For Pete's sake, no. Most experts know these are naturally toned. We have seen hundreds of similarly toned Morgans.
I cracked out the coins and sent them to NGC, which graded each as MS-62.
NGC makes similar mistakes. Here's an example, an all-too-common tone of silver "brown box" Eisenhower silver dollars. Here's an example from a recent online auction featuring the same toning pattern:
My purpose here is not to embarrass or call into question PCGS and NGC questionable toning designations. I share these because those and other top-tier holdering companies typically hesitate to grade a rainbow or toned coin when the pattern is particularly appealing or when it occurs on a Peace dollar.
Peace dollars are slow to tone, but we're seeing more of them, especially on 1922 and 1923 coins. Here's one from my inventory:
I do know toning patterns, which I shared earlier with Coin Update viewers. And I do regularly get good grades from PCGS, which I admire not only for its high standards but also because of its TrueView.
Look at this recent gloriously rainbowed 1964 half dollar, graded MS-66: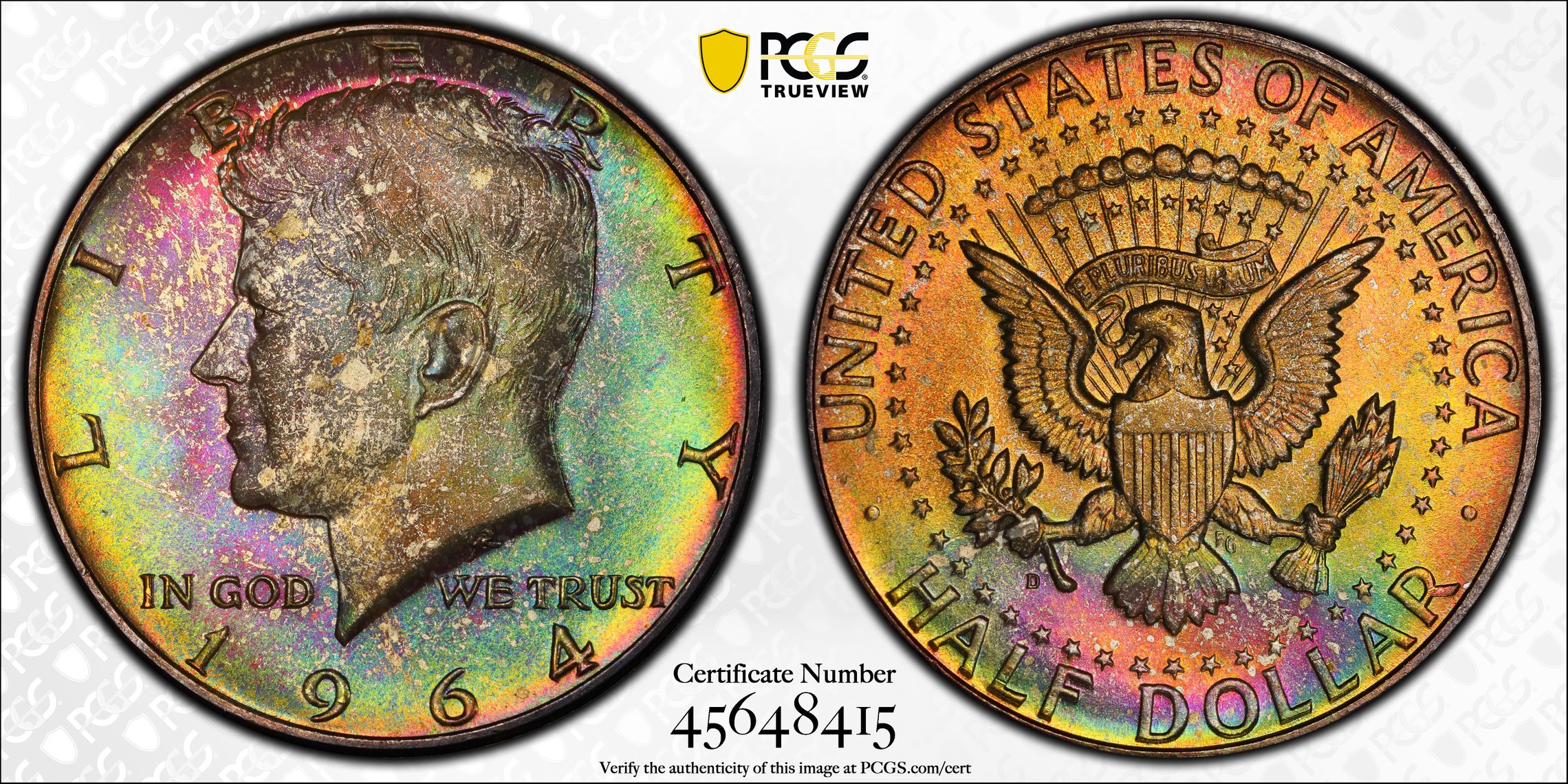 If you are interested in my toned coins, you can visit my PCGS showcase by clicking here. If you are frustrated with wrong designations of your toned coins, be patient. Resubmit. Talk to a dealer and get their opinion.
And, as always, comment below on your experience.
❑