My last post was titled "Last chance Roosevelt dimes: When to give up on grading," stating that I had become unsure of my grading skills as well as those in the major grading services, feeling I was at fault, or they, or both concerning inconsistent grades on this denomination.
Normally I send most of my coins to PCGS because I understand its grading methods a little more than I do NGC's; but PCGS, in my subjective opinion, has undergraded my dimes to such extent that I decided to try NGC.
Take this beautiful dime, for instance, which came back "Almost Uncirculated" AU-58 from PCGS:
What am I missing here? No distracting marks on the obverse cheek; metal flow lines intact on obverse; hair strands above the year still visible; reverse upper band intact and most of the vertical lines—all with magnificent color that comes from album storage in an Uncirculated collection.
AU-58?
So I sent eight dimes to NGC from a similar Uncirculated collection and got high grades, with several full torch. NGC's benchmarks are stricter than PCGS's, requiring both horizontal bands and vertical bands to be intact for the designation.
In the NGC report, featured above, I do not feel the two dimes graded as cleaned actually are cleaned, but consider these retail values on the ones that came back with grades:
Retail lists this at $115; but because of toning, I anticipate $150. Here's a closeup photo:
This 1952-S came back MS-66 FT, worth $95:
Again, I anticipate a higher selling price based on toning:
Another dime, 1954-S, came in at MS-67, worth $55:
Now we get into some pricey dimes based on high grades with full torch. This 1955 is worth $250:
Let's examine the full torch lines on the reverse:
You can see the vertical lines below the second horizontal set of bands. That's key to getting the designation.


This 1963 MS-66 FT is worth $325, a rare find in this condition:
Finally, this 1964 MS-66 FT is worth $135:
I will continue to test the grading services, and my own skills, with other Roosevelt dimes. To read my other columns about the denomination, see:
If you also like Roosevelt dimes, you'll see some fantastic photos of them in the fourth edition of MEGA RED (the Deluxe Edition of the Guide Book of United States Coins), by Whitman Publishing. The section on Roosevelt dimes features some of the highest graded, most colorful samples currently known, including one of mine: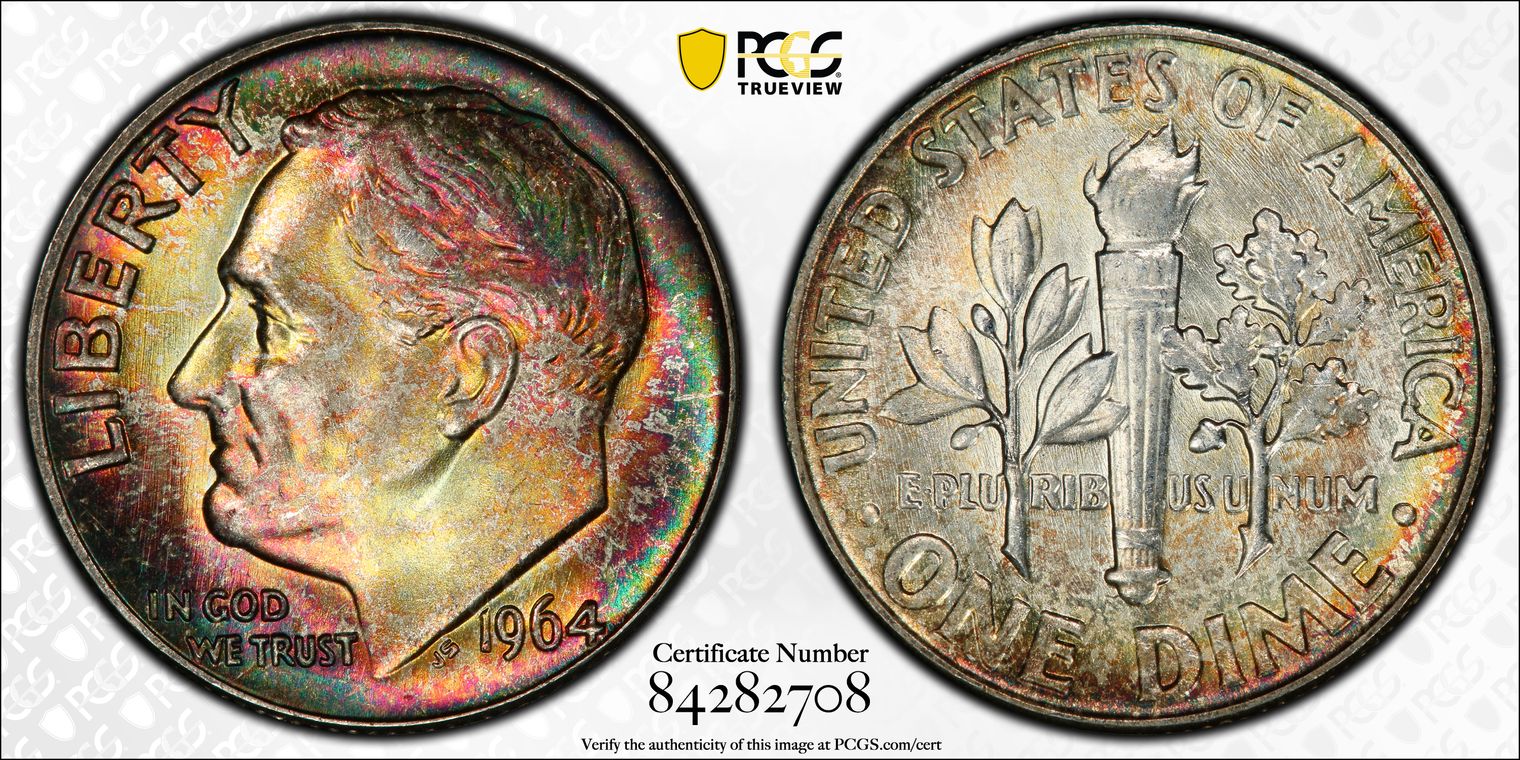 I won this 1964 MS-67+ coin with a $27 bid in a Capitol Coin auction on Proxibid. It's the highest graded (population 5), wonderfully toned, and worth $750. It's also featured in PCGS CoinFacts:
So I think I'll be grading and submitting Roosevelt dimes for a little while longer. Your comments?
❑