With the 2012 Summer Olympics underway, it is a good time to look back at this famous sporting event in a numismatic context. With its history in ancient Greece, known for their elaborate coinage designs, it should not come as a surprise that the first coins with Olympic themes (or sporting themes, for that matter) originate from there. Commemorative coinage, in fact, finds its roots with ancient coinage and what better to commemorate than the most famous sporting event known to man. What we have thus are a plethora of Greek coins with commemorative themes such as chariot racing and the awards given to the winners of the sporting events.
Our focus this time however, will be on the modern Olympic Games and their commemorative coinage. The first modern Olympics were held in Athens in 1896, a revival of the ancient games held in the same country. Athens was chosen unanimously as the host city, appropriate since it was the birth grounds of the Olympics (at first it was considered to hold all future Olympics in Athens, but this plan was later abandoned in favor of rotating host countries and cities). Commemorative coinage for these modern Olympics, however, had to wait. First of all the concept of commemorative coinage in modern times was relatively new; even though the Ancients had released many commemorative coins it had become somewhat of a rarity, with the next two millennia only rarely seeing commemorative coins issued, and if they were, they were mostly released for general circulation (unlike most modern commemoratives, which are released for collectors and generally sold at a premium over face value).
Even though commemorative stamps were issued from the start of the modern Olympics (quite frankly because stamp collecting was popular at the time and commemorative stamps were well accepted by the collecting community) the first modern commemorative coin with an Olympic theme would not be issued until after the Second World War. The Olympics were the 15th; held in Helsinki, Finland, it was the second Summer Olympics held after the war. Unprecedented, the Finnish Mint decided to release a 500 Markkaa coin in both 1951 and 1952. The coins depicted a relatively simple design with a wreath and value on one side and the Olympic rings and the date on the other side, as well as the legend "OLYMPIA XV". Struck in silver, the coins were meant for general circulation, and were available for the public at face value or straight out of circulation. Unlike later issues, no Proof coins were specifically struck for collectors, although most of the 1951 coins were picked up by collectors, who soon noticed the low mintage of only 19,000 coins. The 1952 had a much higher mintage of 586,000 coins.
The coin collecting community had to wait another twelve years before the next Olympic coins were released. This time, the Japanese Mint released two silver coins (100 yen and 1000 yen coins in circulation strike format) to commemorate the Summer Olympics held in Tokyo during the summer of 1964. The coins once again featured the Olympic rings. That same year another Olympics coin was released, this time to commemorate the ninth Winter Olympics held in Innsbruck, Austria. The Winter Olympics were held since 1924 (with the exception of the war years), and had grown in popularity since inception, as winter sports in general had grown in popularity over the years. The Austrian Mint used the opportunity to release the first Winter Olympics coin, a silver 50 schilling piece struck in both circulation strike as well as Proof format. The coin depicted a ski jumper on the obverse with the Alps in the background. This was the first time that a specific sport was depicted on a coin commemorating the modern Olympics.
At first, the Winter Olympics did not see commemorative coins issued as often as the Summer Olympics, which had commemoratives released every year from the 1964 Olympics on, but the Winter Olympics soon caught on. Over the years the number of issues released for both has grown exponentially, as have all modern commemorative issues. The so-called "exploit" of collectors with a large number of commemorative issues released really took off with the 1972 Summer Olympics held in Munich, West-Germany. Released in six different series and designs between 1970 and 1972, a total of twelve 10 DM pieces were released, both in uncirculated and Proof quality. The uncirculated pieces remained available at face value but a 5 DM premium was charged to collectors for the Proof versions.
If twelve coins seemed like a lot, the Canadian Olympic coin program for the 1976 Summer Olympics held in Montreal must have seemed enormous. The Canadian Mint, between 1973 and 1976 released a total of 28 different designs in seven series (each with a different theme, ranging from Canadian sports to Olympic souvenirs). All were struck in sterling silver (.925 fine), in both uncirculated and proof format, plus two $100 gold coins (one uncirculated coin in 14K and one Proof in 22K) for a total of 58 different coins. It would be the start of many Olympic coin issues that have been released to this date. Most Olympics have several dozen different issues produced.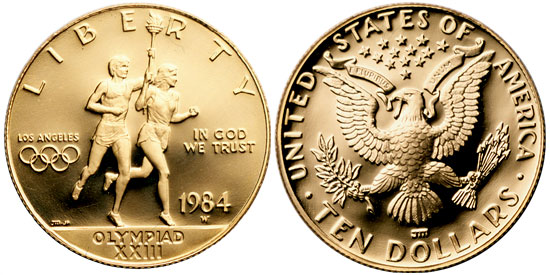 As for the United States, the 1984 Summer Olympics in Los Angeles only had six commemorative released, but the United States Mint came back in 1996 with a series of 32 different commemorative gold and silver coins. Many of these were unpopular at first (most likely because of the cost of the whole program) but are now considered to be low-mintage modern commemoratives.
There are several ways of collecting Olympic coins. A complete set of Olympics coins released by the nations that organized the Olympics in any given year is almost impossible thanks to the large number of issues and very expensive issues such as the 2008 Beijing Olympics 100,000 Yuan coin, having a mintage of only 29 pieces (of which only one was allocated for the American market) and struck in pure gold with a total weight of 10 kg (321.17 ounces, having an intrinsic gold value of approximately half a million dollars). With rising prices of bullion such issues such as that have been totally out of reach except for the wealthiest collectors, and even than they are rarely available.
The collector also has to remember that in addition to the pieces struck by the organizing nations many countries now release NCLT (non-circulating legal tender) issues to commemorate the Olympic Games (and many other subjects). Not only the United States (which has released commemorative Olympic coins on a number of occasions since the 1980s) but also many small island nations and microstates are notorious in this practice, having found a way to generate potential income by releasing Olympic coins even if that particular nation is not even participating in the Olympic Games. While these coins are collectible in their own right, it is up to the collector whether or not to include them in a collection of Olympic commemorative coins.
That said, Olympic coinage still provides plenty of opportunities even for the collector on a limited budget, as there are many ways to fill in such a collection. One could assemble a "type" set of one coin from each Olympics game since 1964, a set which has a modest amount of coins, and every Olympic game usually has several affordable issues released. Another option is to collect coins commemorating a single sport, such as athletics, fencing or whatever suits you. Collecting coins in uncirculated or Proof condition only is also an option, as are collecting coins only struck in one metal like silver, gold or base-metal. The possibilities, as is often the case with world coins, are basically endless.