Viewers of Coin Update know that I have posted several articles about the beautiful toning patterns of older green-label PCI-holdered American Silver Eagles. This was one of my most popular posts from a few years back.
Here's an image of some of my PCI/PCGS crossovers:
Shortly after the above article was published, and after I had sent part of my ASE collection to PCGS as crossovers, I received an email from a Coin Update viewer. He wrote:
I've read a few of your blogs on PCI-toned Morgans and Silver Eagles. I've seen your crazy set on PCGS. I have a question on PCI eagles crossing over to PCGS holders. I've crossed all of my pretty ASE's over to PCGS to get the TrueView images. I've been doing this for the past 3 years or so. I have a major problem with them going bad as soon as I put them in PCGS holders. Just wondering if you have had a similar experience? Beautiful PCI Eagles turning dark around edges, 2+ months or so after TrueView. It's like they build up mold on the edges, it's not mold, but that's how it looks. It gets worse with time. Just wanting to know if this has affected you to, and what to do. I've recently started not crossing them.
At the time, I responded that the toning and PCGS Gold Shield label probably had nothing to do with it, and that toning continues until, well, it doesn't anymore. I checked with PCGS and was told the same thing. The Coin Update viewer said that other toned silver coins, like Morgan dollars and Franklin half dollars, didn't have the same problem. They, too, were in Gold Shield holders.
That got me thinking that these coins probably interacted with the PCI label chemical ink or paper quality. Did the reholdering process expose them to air or some other phenomenon?
It occurred to me that my collection was in the bank box, which I visited infrequently. So I decided about a year later to check. And, I, too, began to see evidence of dark toning around the rims with what looked like mold. Of course, it wasn't. It was a mold-looking tone. It affected about half of the my collection, with all of those in Gold Shield holders. The older PCGS-slabbed Silver Eagles without the Gold Shield did not have that discoloring.
Keep in mind that I am NOT stating that the Gold Shield label caused the mold-like color. The toning on coins in the older PCGS holders might just have stopped due to age.
Then I received word from collectors who kept their Silver Eagles in the original PCI holders. And I began seeing this:
Note that the PCI label states 100% white. The mold-like color here turned the patina to black.
So here again, we cannot place blame on PCGS. As noted, the toning might have stopped in older PCGS holders. And as you can see, it continues in some PCI ones.
Nevertheless, prices for these PCI/PCGS crossovers have skyrocketed to more than $1,000 for a typical rainbow-colored coin. A few years ago, the most I would pay would be a few hundred dollars.
The purpose of this post is to advise you to check the coin against the TrueView before making a bid or buying one.
I found these coins on eBay, and the seller was conscientious, not using the TrueView image but photographing the coins so there was no mistaking the color. Because Gold Shield holders typically come with TrueView, I will show you the photo next to the eBay coin whose colors exhibit the same type of discoloring when compared with the original photo.
These are still lovely coins as they contain nice patterns. But the darkening color might continue.
It is also true that these PCI/PCGS crossovers can develop even more beautiful colors, as in this example. The above photo was taken three years ago. I sent the coin back to PCGS with Gold Shield for reholdering. Now look at the deepening radar toning: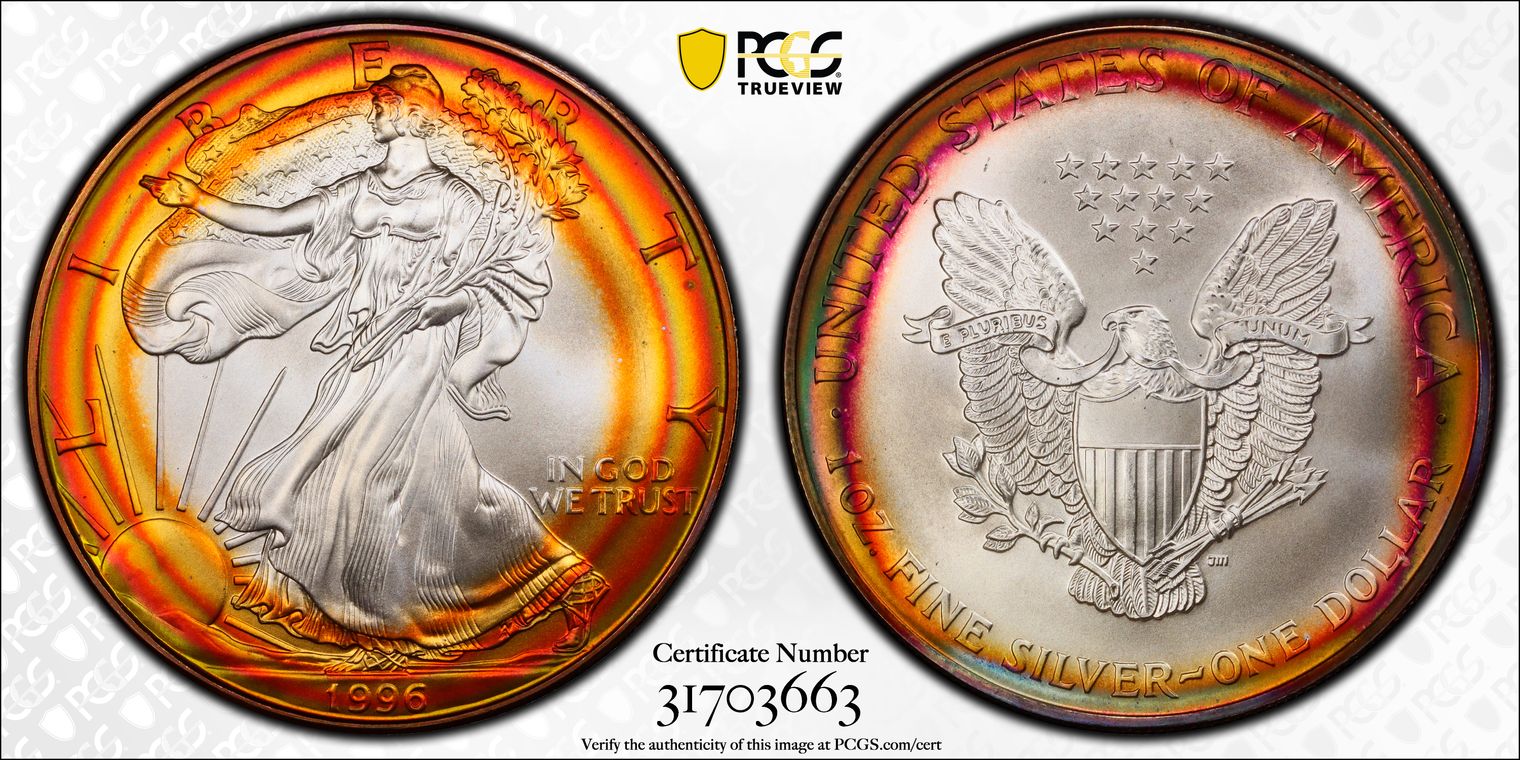 I still have about a dozen PCI/PCGS Gold Shield crossovers. I also learned something about storage. Before, I kept all my toned PCGS Silver Eagle crossovers in one box of 20. I don't know if the combined effect of 20 coins continuing toning sparked the mold-like color in a closed plastic box inside a metal bank box. However, now I only include three coins per PCGS box and my best ones in individual wooden storage coin containers. I check the colors once a month. No discoloring.
I have no idea if storage had anything to do with the issue. But this worked for me.
As for the ethics of selling coins with discoloring, do as the conscientious eBay seller did above. He didn't use the TrueView. He took a photo of the coin.
A final word about TrueView: Its numismatic photography is the best in the business. I patronize PCGS because of that.