The U.S. Mint produced original double mint sets between 1947-and 1958. These are especially desirable because of low survival rates and outstanding toning, especially in 1957 and 1958.
The first three years have the lowest mintages, with 1947 (5,000), 1948 (6,000), and 1949 (5,200). No sets were produced in 1950. Mintages grew each year from 1951 (8,645) to 1955 (49,660). Mintage stabilized in the remaining years, with 1956 (45,475), 1957 (32,324) and 1958 (50,314).
As you can imagine, these sets have low survival rates that must be put into perspective, especially since collectors have been known to switch out coins, holdering the toned ones and replacing those denominations. Those are not survival rates; they are corrupted sets.
Here are two halves from a broken-out set: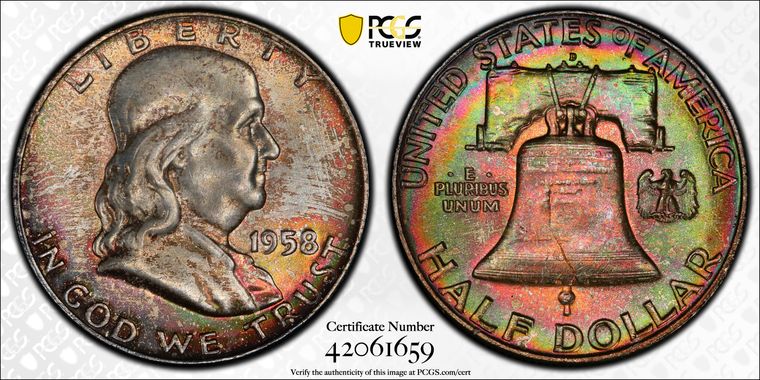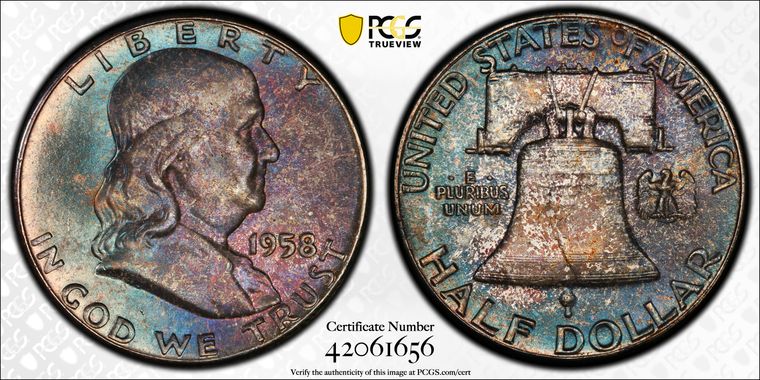 You'll notice the Denver 1958 half has distinct red/green/blue target toning while the Philadelphia 1958 half has blue/purple tones. While variations differ, the planchets from these two mints usually result in these color patterns.
Quarters have the same toning.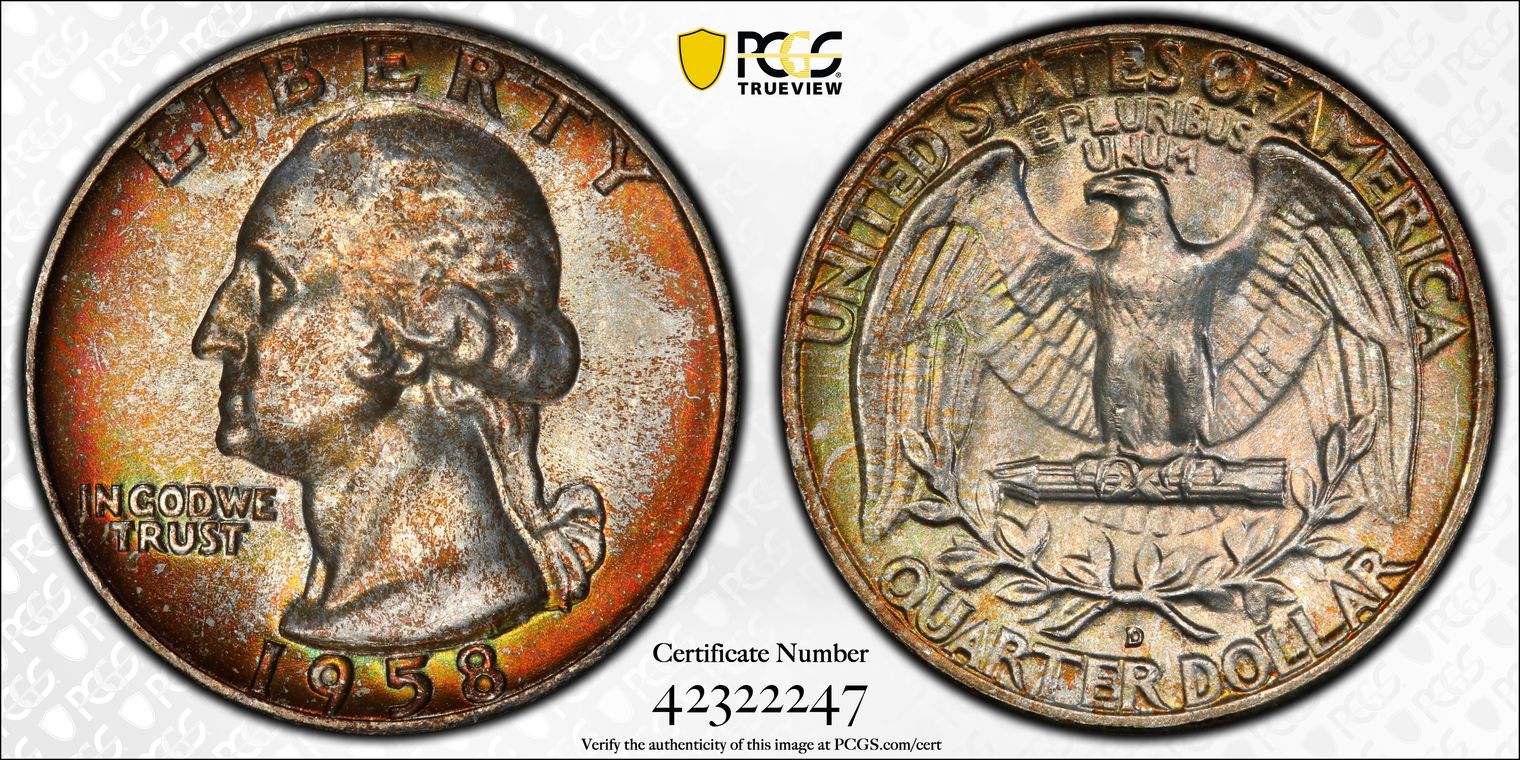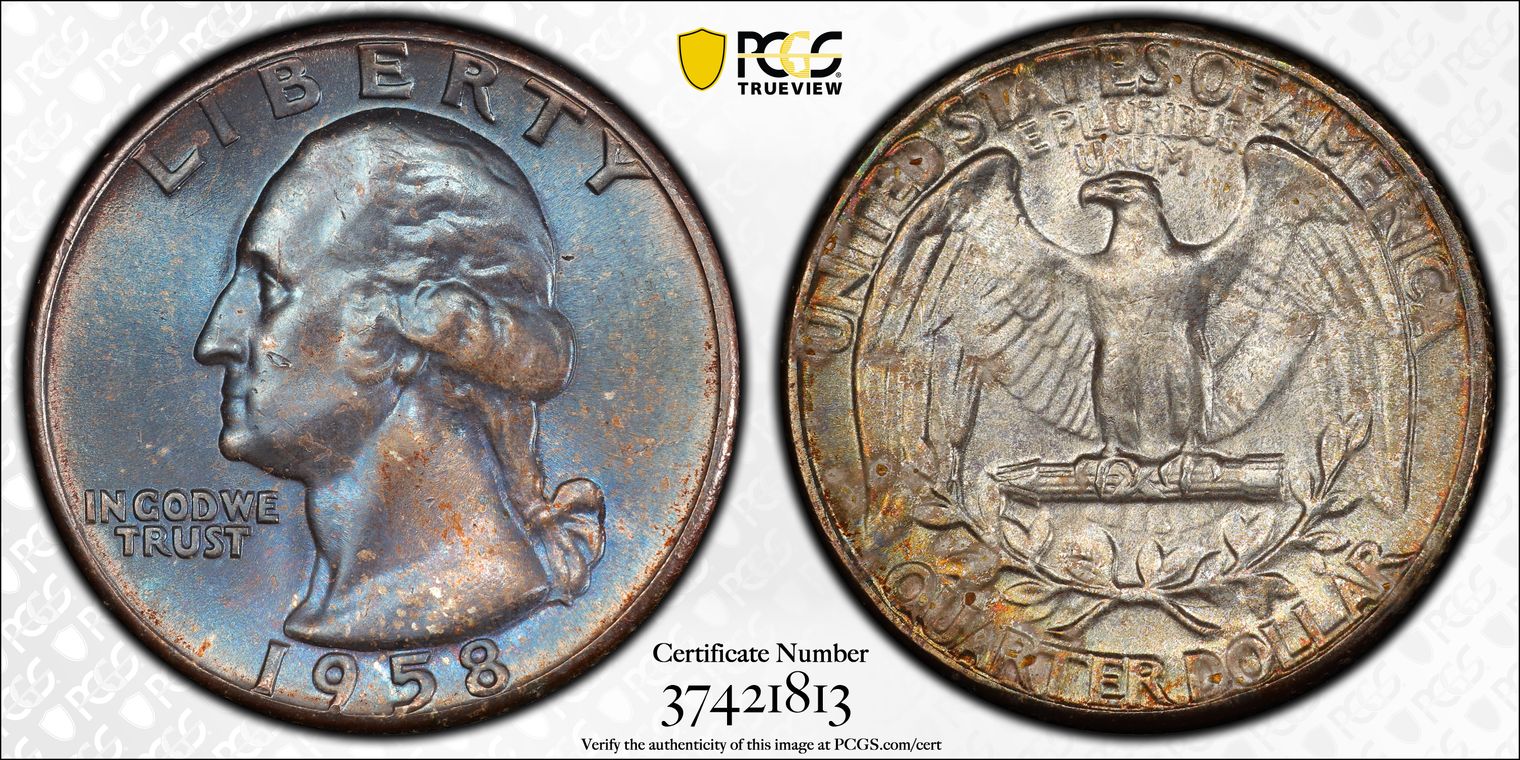 The reason for the toning concerns the packaging using various types of cardboard cutouts and glued paper. Leo Frese has a good explanation for that in this Coin Week article:
The paper was glued down to one side of the board while the other side was simply covered loosely by the paper, thus allowing easy viewing of the coins. These paper-covered boards were then placed into an envelope and this envelope was placed into a secondary mailing envelope.
Bidders and buyers need to know the type of packaging for each double mint set year, beyond the scope of this article. In some years, (1955 and 1956) only Philadelphia minted half dollars, for example. The best way to test for packaging and missing denominations is to go to the e-commerce seller APMEX and see the visuals and originals there.
Each set should have cardboard cutouts for each mint with the right paper packaging in addition to an envelope and addressed mailer.
Sets that have all these sell for premiums.
You can tell if coins in sets have been switched out by packaging.
For instance, the 1957 set has pink or pinkish paper covering the coins in the cardboard cutout. The 1958 has a green holder with the paper glued to one end of the cutout (not touching the coins).
Here's an eBay offering with 1957 and 1958 cutouts, giving the suggestion that some coins may have been switched out.
Another way to tell is by toning, or lack thereof.
The board on the left of this 1954-D set shows no or little toning whatsoever while other boards are uniformly toned. Bidders with knowledge of planchet toning for each year of double mint sets can easily identify these sets. The 1954-D halves do not tone as well as others that year, but the suspicion here is that other denominations also show relatively little toning in the Denver set.
Here's the color pattern of the 1954-D quarter.
You don't see that type of toning in the offered set.
When buying double mint sets, be sure to note any missing coins. As previously noted, some years lack certain denominations. But when you see the same denomination in the board with only one coin, that should be listed as a partial set. This seller ignores that. He wants you to look at the photos. When I see this, it usually means a toned or better-struck coin was taken out of the set for holdering.
In this case, message the seller for an explanation.
This conscientious eBay seller puts notices on missing spaces on the cutout:
Also, beware of ugly spotting on double mint sets caused by households that had second-hand smoke from cigarettes or tobacco. Many of the coins have the same black spots.
One more caution.
As you can imagine, sealed double mint sets are highly collectible because they should hold all of the paperwork with the proper boards and, perhaps, stellar toning. "Sealed" is a lot different from "unopened."
It's easy to open a mint set envelope and re-glue it, an unethical tactic that I documented in 2018 for Coin Update.
This eBay offering for $600 uses the word sealed and offers good photos (I blotted out the address on the original envelope).
There's a lot more to know about double mint sets, which I consider the best and worst buys for hobbyists. You can lose hundreds of dollars on switched-out sets, missing coins, and doctoring (when a person artificially tones a coin and places it in the mint set).
But at least you have the basics to identify dubious sets, and will be a better buyer for it.
❑