When it comes to dimes, perhaps the most popular series is the Mercury Dime, struck from 1916 until the end of World War II in 1945. Known for its key dates, in particular the 1916-D and both 1921 issues (Philadelphia and Denver), the set is difficult to complete in all but the lowest grades. As a result some collectors may choose to skip the early dates and concentrate on a shorter set. There are two date runs that are generally popular as such, and both are listed in the PCGS set registry. The first starts in 1934 and the second starts in 1940 (some start in 1941, to coincide with the War dates) with both running to the conclusion of the series in 1945. The division in 1934 might seem a little bit odd at first, but since no Mercury Dimes were struck in either 1932 or 1933, it follows a "natural" dividing line.
By skipping these early dates (at first) it is much more feasible to build a set in uncirculated condition at a reasonable cost. Completion of a set is even more readily achievable in circulated grades, as all dates from 1934 onward are generally available in circulated condition at a cost that is usually little over the silver value. However, most collectors pursuing a short set would opt for uncirculated pieces or examples certified by the major grading companies in gem condition (MS-65) or higher. Here we do have some differentiation in the difficulty of these later dates, although it is not much.
In gem condition without full bands (more on that later) all later dates can generally be acquired in MS-65 or even MS-66 for less than $100 piece, with most available for as little as $25 or even less in MS-65. In higher grades, however, some dates become surprisingly difficult. A full set in MS-67 will set you back more, as some dates jump several hundred dollars apiece in MS-67. Yet, with some searching and the appropriate funds available, even in MS-67 this is a set that is achievable for most collectors. While most common dates can be acquired in MS-68 for about $300 there are many dates that sell for several thousand dollars in these super high grades. The 1935-S is an example of such a date.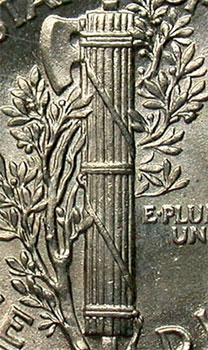 The paragraph above hypothetically assumes that no "full split bands" or "full bands" Mercury Dimes are included. First of all let me explain briefly what is meant with the term full bands, abbreviated as FB by PCGS and NGC. The design of the Mercury dime is such that the strike of the coin (how well the design details are brought up) can easily be judged by looking at the horizontal bands on the reverse. These bands are visible in the fasces, which is a symbol that signifies strength and the major design element of the reverse. On a coin with full bands, all bands will be separated by a line, which has to be complete, with no weakness or imperfections visible. Whether or not a coin exhibits this characteristic depends on the striking pressure the dies were set to when the coin was struck, and whether any contact marks interrupted the bands afterwards. If the bands are not fully distinct or hits interrupt them, the coin will generally not be certified by either PCGS or NGC as having full bands.
When we take full band Mercury Dimes into consideration, the story changes significantly. While many of the more common dates are only a little bit more expensive when certified as full bands (in fact many later dates have more FB examples certified than non-FB coins), the difference becomes greater in grades such as MS-68 or for certain issues. We discovered above that there are no true key dates even in MS-67 grades without full bands, however, when full bands are taken into account we discover a true rarity.
The last year of issue struck at the Philadelphia Mint, the 1945 Mercury Dime, is one of the toughest coins to find with full bands in the entire series. The prior year, 1944 is difficult as well, but the 1945 issue can hardly be surpassed. PCGS has certified just over a hundred 1945 Mercury dimes with full bands out of a total number of more than 6,000 submitted from a generous mintage of over 159 million pieces. The NGC online census shows similar numbers.
Not only are Full Bands 1945 Mercury Dimes rare, they are also expensive. Recent auction results show that a PCGS MS64FB sold for $4,600 in December of 2011; a PCGS MS64 without the FB designation would have sold for about $10, if that much. MS-65FB's sell at auction for anywhere between $10,000 and $12,000, while MS-66FB's are in the vicinity of $15,000. The absolute auction record for a full band 1945 Mercury Dime dates back to 2001, when a PCGS MS-67FB coin sold for $43,125. This was an extraordinarily nice coin, as the most recent 67FSB (an NGC graded example) sold for a "mere" $25,300 in 2009.
Needless to say, this one coin makes an otherwise reasonably easy to complete set extremely difficult. Yet, if a 1945 is included without full bands and the rest of the short-set are full bands any collector still would have completed an extraordinary task, especially when the set includes fully original coins. Many of the dates in the short set are easily found in MS-67 or even MS-68 and are usually quite appealing, with strong strikes and luster and often with nicely toned surfaces, but there are also dipped and lackluster pieces that should be avoided. There's a reason why the set is so popular with beginning collectors, as the design is instantly recognized by both people that used them in circulation back when they circulated throughout the country, (the Mercury dime was commonplace in circulation up to the 1960's) as well as people with only a modest interest in coin collecting. Simply said you just can't go wrong with the Mercury Dime short set!