Flooding the online coin market of late are later-labeled PCI coins with easily detected sulfur-based artificial toning. Most of these coins typically would grade below PCGS, NGC, or Red Book price values, with some sellers using those prices in descriptions, as in this 1878-D Eisenhower dollar:
The toning here is artificial. Such toning usually involves a mixture of water, powdered sulfur, and sodium hydroxide. Do not try this, although videos are readily available on YouTube. Sulfur is an especially dangerous chemical whose risks include dermatitis, eczema, skin ulcers, and allergic reactions, among more serious symptoms like bronchitis.
As far as I am concerned, the clad 1978-D above with a mintage of 33,012,890 is worth little more than $1, not $9,500, as the seller lists on HiBid.com.
The auctioneer, in this case, is using PCGS values ($9,500) rather than NGC ones ($6,000). Only seven such coins have been slabbed by PCGS at MS-67; NGC lists 12.
Chemical treatment typically tones coins in purple, blue, burnt orange, and occasionally yellow hues. Here are some examples:
Sometimes a mixture of those telltale colors occurs, as in this example:
If a silver coin already has some rainbow toning, you might get a mixture of real and artificial color, as I suspect occurs here in this overgraded MS-67 example:
Nevertheless, genuine toning sometimes appears in overgraded later PCI coins, like here:
The seller described this coin as being worth $3,000 at MS-66+. I put the grade closer to MS-63. It sold for $121, with an additional 15% buyer's fee. But still, that's a reasonable price for this coin.
Again, bidders with numismatic knowledge would know this. Others lacking such knowledge will get artificially toned coins.
Older green-labeled PCI coins do tone in magnificent colors. You can read about that here.
Here's a magnificent example from my collection: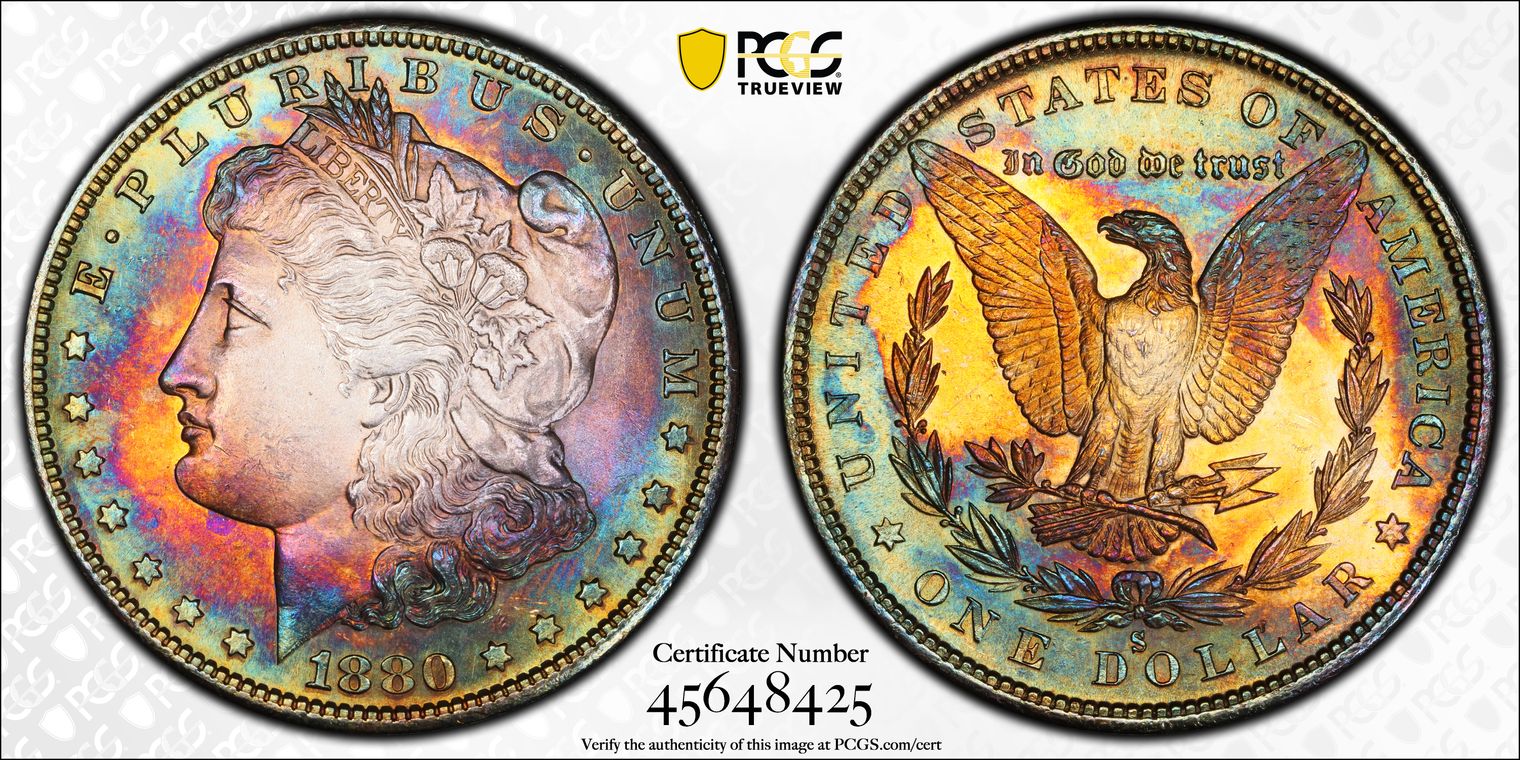 Also, remember that major grading companies are reluctant to slab coins with wild toning, like the one above. They know that a coin like mine at MS-64 may be worth hundreds or even thousands more dollars to the right collector.
I have written about that before, noting how many steps I must take to get a genuinely toned coin accurately graded. Actually, I am in the process of resubmitting three green-labeled PCI coins deemed to have questionable toning. I am challenging those depictions and, as always, will report results here.
❑