James Earle Fraser is a name that will be familiar with many numismatists. He is mostly known for his design of the famous Buffalo Nickel, which was struck from 1913 to 1938 and was later revived for a 2001 commemorative silver dollar and a pure gold bullion coin introduced in 2006. Together with his student and later wife Laura Gardin Fraser, he also designed a number of commemoratives and two medals awarded to servicemen of the United States. Even though his most famous works of art including statues as well as coins were made well over a century ago, Fraser works remains popular to this day. In this article we will take a look into the life of the man and his work.
James Earle Fraser was born on November 4, 1876 in Winona, Minnesota in the Southeastern part of the state. Early in his life he was exposed to Native American life and culture, as his father was an engineer employed by railroad companies who expanded ever westward, suppressing the Native American population into areas unknown to them and reservations. It appears that these early experiences had a profound impact on Fraser, who later in life would use the Native American theme in many of his works.
Living in South Dakota and Minnesota before moving to Chicago, Fraser did indeed have plenty of exposure to the "wild-west" as it still existed at the time. During this period he first experimented with art using materials from nature, in particular chalkstone that was something he picked up from a man in South Dakota. His artistic career, however, would not take off until the family moved to Chicago in the late 1880's, where Fraser would begin studies at the Art Institute of Chicago at the age of thirteen. At the age of twenty, after having studied under Richard Bock, he moved to Paris and attended classes at the Ècole des Beaux Arts as well as other Parisian institutions. In 1898 he was exhibited at an American exposition held in the same city. Shortly afterwards he became a student of Augustus Saint-Gaudens, the famous sculptor well known to numismatists for designing the $20 gold piece that bears his name.
Upon returning to the United States, Fraser continued to work for Augustus Saint-Gaudens until 1902, when he opened his own studio in Greenwich Village in New York City. During the next half century he would create a number of public monuments, including those honoring men vital in the creation of the United States of America and presidents. Among his more famous works are a life-sized statue of Alexander Hamilton that stands in front of the U.S. Treasury Building in Washington D.C. and a memorial for Abraham Lincoln located in New Jersey near the start of the Lincoln Highway.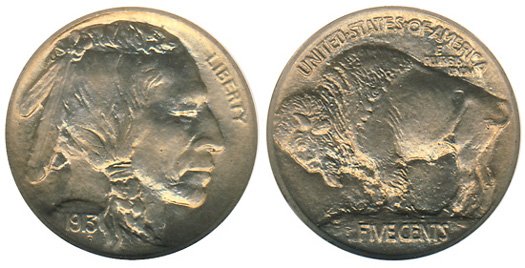 Among the more famous works of art of James Earle Fraser are his depictions of Native Americans. The Buffalo Nickel is among the earliest pieces by Fraser that have a Native American theme. The Liberty Nickel, which had been struck since 1883, was largely unfavored by the public and Mint personnel alike and a replacement had been sought for quite some time. In 1911 he had been asked for his input on a potential new nickel, and initially suggested a large head of Abraham Lincoln, a design for which a few patterns were made. However since Lincoln had just been put on the cent, this design was not favored, and Fraser soon suggested a Native American motif. This would become known as the Buffalo or Indian Head Nickel.
Another famous piece created by James Earle Fraser with a Native American motif is End of the Trail. Initially created shortly after Fraser had attended the World's Columbian Exposition in Chicago in 1893 a number of small pieces were created thereafter (reportedly he took one of these to Paris when he studied there). A larger than life version of the same motif was created and shown for the 1915 Panama-Pacific Exposition held in San Francisco that year.  While the artwork was initially planned to have been cast in bronze, World War I prevented so, and the statue (which is approximately 17 feet tall) was made in plaster. After the exposition it was purchased and placed near Visalia, California, and in 1968 was moved to a more permanent location in the National Cowboy & Western Heritage Museum in Oklahoma City.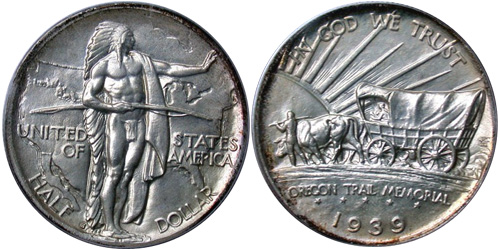 As previously mentioned James Earle Fraser also designed (and helped design) a number of classic commemoratives. The first of these is the 1924 Huguenot-Walloon Tercentenary Commemorative Half Dollar, whose design was largely the work of the aging George T. Morgan but which was modified by James Earle Fraser. A few years later, in 1926, Fraser designed the wagon side of the Oregon Trail Memorial Commemorative Half Dollar, with his wife designing the other side. This design would be one of the longest-lived commemorative designs, struck intermittently until 1939. Fraser was also responsible for the design of the 1925 Norse-American medal, an issue often included within the commemorative series, which had been authorized by Congress and was issued as a medal instead of a true commemorative with a face value.
Fraser also designed other medals, one of which is of particular interest to numismatists, a 1901 dated medal struck for the Pan-American Exposition held in Buffalo, NY that honors his mentor, Augustus Saint-Gaudens. The medal is a huge 91.3 millimeters in diameter (3.6 inches) and quite scarce. It featured a side-view bust of Saint-Gaudens on the obverse, which also has the text "SPECIAL MEDAL OF HONOR CREATED FOR AVGVSTVS SAINT-GAVDENS" and "BUFFALO-NEW-YORK-MCMI." The reverse features a heroic representation of a young semi-nude sculptor with a heroic Pegasus resting in the background. These medals are quite scarce and have sold for figures around $10,000 at public auction.
Also of interested are two award medals. The first of these, called the World War I Victory Medal was presented to all servicemen of the American Army who fought during World War I. James Earle Fraser designed it in 1919 and it was awarded by mail after the war had ended. On the obverse there is a winged representation of victory, and on the reverse there is a fasces in front of a shield with the inscription of countries that were part of the war on either side. The reverse also comes with the inscription "The Great War for Civilization". The medals were mailed in a small box attached to a rainbow ribbon.
Another military medal designed by Fraser is the Navy Cross, the second highest award in the American Navy after the Medal of Honor. It was designed in the same year as the World War I Victory Medal and continues to be awarded to this day. Attached to a blue ribbon with a white stripe, the obverse featured a late 15th century vessel in full sail, set upon a modified cross pattée (a cross often associated with medieval times, and easily recognized) with laurel leaves in between the open spaces. The reverse features two crossed anchors with cables attached and the letters USN set below the and next to the two anchors.
The works of James Earle Fraser continue to have an enduring presence to this day. His design for the Buffalo Nickel was reused for a commemorative silver dollar and more recently an ongoing bullion issue. The naval medal continues to be awarded to this day and is often proudly displayed. Many of his statues are in display in cities and museums around the world and are viewed by millions of tourists worldwide. Fraser passed away on October 11, 1953 at the age of 76, but without a doubt, he and his wife have left the (numismatic) world with an enduring legacy that is appreciated by much of the American public.