Editor's Note: Michael Bugeja's columns are based on his buying experiences on eBay, Proxibid, and HiBid. He mainly bids on raw (not holdered) coins. In his monthly columns here, he provides tips on how to grade, identify varieties, spot doctoring, decipher subpar photos, and much more. Even with his expertise, he regrets most of his buys after he sees the actual coins in hand. In this three-part series, he takes inventory of his 2022 purchases and shares his top ones for each platform, along with what he learned and how that will guide his purchases in 2023.
I was one of the earliest bidders on Proxibid in 2010, and for years it remained my favorite coin-bidding platform. But it isn't any longer, primarily because of the sellers it has attracted. Also, there are too few coin auctions in any given week.
Some of those sellers see maximum bids. Some of them claim not to see bids but then state that coins were sold "onsite," only for those same coins to reappear in another auction by that company in a future week. Because those companies sell on multiple platforms, Proxibid can't actually tell if the coin has been sold. The only way I know it is by having bid on it, learning it has been sold "onsite," and then noticing the same coin back again for bid.
On a good day, I think at least a third of the sellers fall into my "no-bid" category, based on past experience.
As such, I won 58 coins in 2022. Of those, I was happy with only 4, for about a 7% rate — approximately the same percentage as I experienced on eBay, described in Part I of this series.
Here is one of my worst buys, believing the seller's description that this was a "gem BU" 1927 dollar. I never believed that, figuring the coin was almost circulated. The date, too, is relatively scarce, with a mintage of 848,000. True, I won the coin with a $45 bid plus buyer's fee and shipping, totaling $70.
When I received the coin, I could see it was heavily cleaned and then dipped, resulting in dark toning. Moreover, I would have graded this as extra fine and not "gem." The photo didn't capture its true condition, a scenario I am encountering more and more with sellers using Photoshop to add tone and luster. I can't tell if that happened here, but I can tell you I was disappointed when I saw the coin.
I left a negative review of the transaction, stating, "Last time I bid on anything from you. This was an XF silver melt coin billed as toned and uncirculated."
That said, I did win four good lots from other auctions.
Here is one, an old Meghrig album that typically tones silver in brilliant hues.
I sent several of these dimes to PCGS. Here's an example from that lot, a 1951-S MS-67 Roosevelt dime: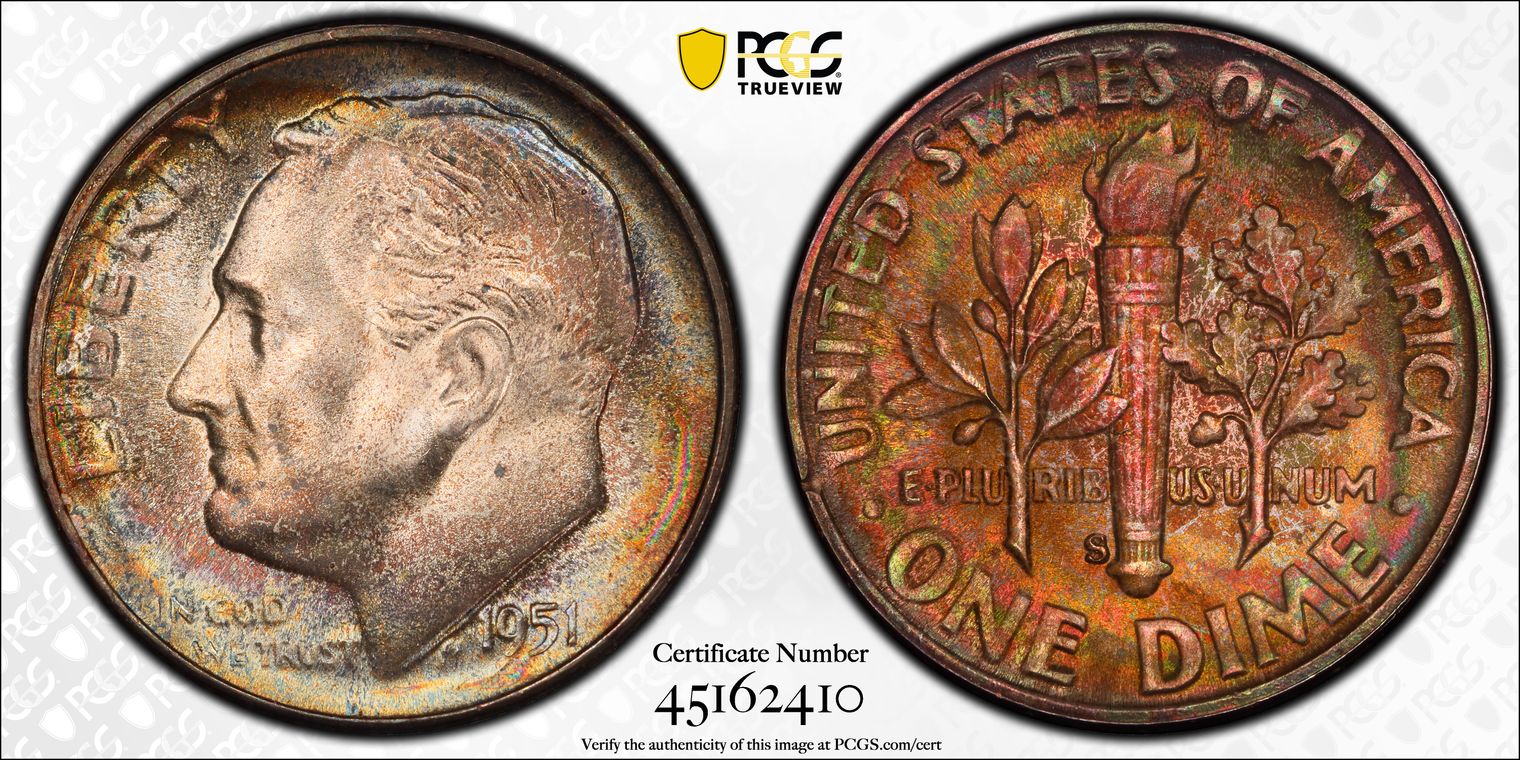 I almost always only bid on raw coins but occasionally, with ancients, I'll go with a holdered one, mainly because counterfeits are so prevalent in online auctions. I won this Lesbos Island coin with a $110 bid. I've seen similar issues go for hundreds of dollars more.
I'll also bid on holdered California Gold coins, especially ones in green PCGS holders, because mine are from that slab era, typically generation 2.1 to 3.1. I won this 1872/1 25c gold coin with a $710 bid:
It retails for $900, but the quality of this coin is outstanding. I'm considering resubmitting it for a potentially higher grade.
Lastly, I won this Franklin 1961 Proof half dollar with a $45 bid:
It graded PR-67 at PCGS: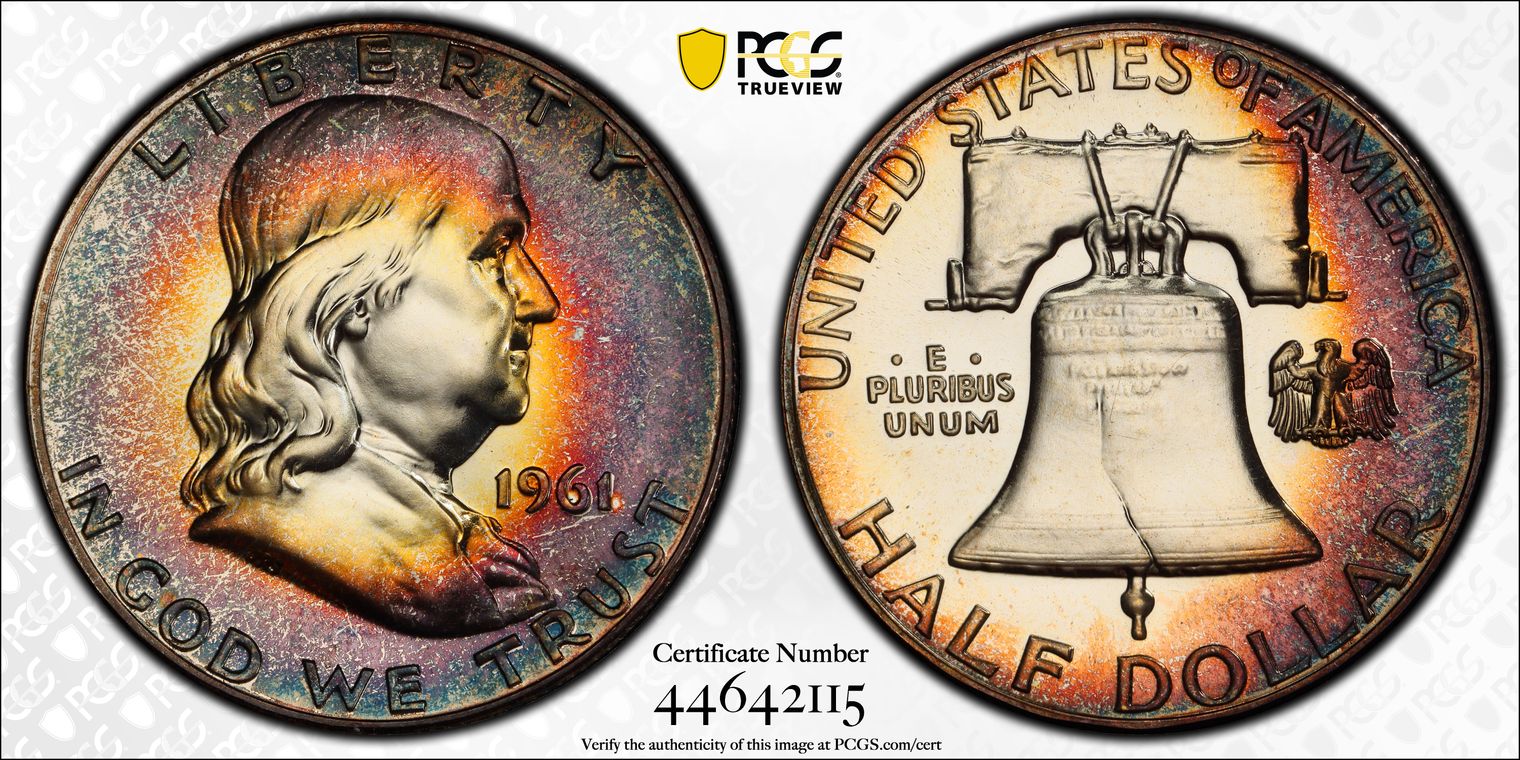 What Did I Learn?
Again, I lost hundreds of dollars bidding on problem coins. Then again, I managed to win some valuable lots, such as the aforementioned Lesbos Island ancient and California Gold coin.
What's the lesson for 2023?
There are too few favorite sellers on Proxibid, apart from a dozen or so whose coins are described accurately with good photos. Too many sellers see bids and sell across several platforms — same lots offered on HiBid, Live Auctioneers, etc. — so that you are uncertain what the final hammer price actually is. Actually, I prefer Proxibid's user terms that require sellers to state if they see maximum bids or shell bid.
But over the years, Proxibid just hasn't attracted as many exciting auctions as its competitors, notably, HiBid, which we will review in the third installment of this series.
Consequently, in 2023, I will spend less time browsing auctions on Proxibid and only patronize a half dozen favorite sellers.
The Proxibid lesson is apparent: You can't score high-value coins at auction prices if too few sellers offer them. Also, when a platform fails to attract more sellers, the browsing time can be a waste. Same auctions. Same issues.
I have asked my favorite Proxibid sellers to email me when they have a new auction.
That will save time.
❑