Hobbyists, auctioneers, and even coin dealers often use the wrong terms to describe the several categories of toned coins.
---
Monster Toning
The most frequent misuse concerns the word "monster."
That misnomer became popular when archeologists proclaimed that certain dinosaurs displayed rainbow colors to attract mates. Here's an example of the dinosaur Caihong juji. "Caihong" means "rainbow" in Mandarin. "Caihong juji" means "rainbow with the big crest."
Let's see it here alongside a coin with true monster toning.
Monster toners are rare. So coin doctors try to replicate them, as in this poor example of a chemically treated dollar:
Here's another example of the misuse of "monster" toning:
While there is some color above the date, this is just a toned coin. No monster here.
Monster coins must contain the colors of the "rainbow," another frequently misused term describing lots on eBay, Proxibid, HiBid, Live Auctioneers, and other online venues.
---
Rainbow Toning
The colors of the rainbow are red, orange, yellow, green, blue, indigo, and violet.
You can find those hues in this coin, which blends colors in a crescent, as in a rainbow:
Here is a rainbow crescent on the obverse and rainbow toning on the reverse:
Here's an example of the misuse of "rainbow" toning:
The only rainbow here is in the seller's mind. This is a toned coin or colorful dollar.
---
Rim Toning
As the word suggests, color here occurs around the rim of a coin, usually caused by the metal interacting with the cardboard of folders, holders, or albums. While this toning type is easy to detect, the concern here is how sellers describe the color, often hyperbolically. Here's an example from eBay:
This isn't gorgeous rim toning caused by storage. It's just common faint toning near the rim.
Here's an example of rim toning erroneously described as "target" toning (to be discussed momentarily).
---
Target Toning
True "target" toning  (also known as "bullseye" toning) must have the rings of an archer's pattern, as in this "rainbow target toner" with "rim-toned reverse":
Sometimes another word is used for target toning, "radar" toning, wherein rings resemble radiating waves. Here's an example:
---
Sub Groups
There are various subgroups of toning associated with what caused the toning as much as the color thereof. For instance, end-roll toning describes coins on each end of a bank roll. They can be any of the above major categories.
Mint set toning refers to coins stored in business-strike double mint sets. You can read about that by clicking here.  Sets were sold between 1947 and 1958 in various types of packaging that caused the tone. The toning patterns vary from year to year and fall into any of the main categories found above.
Here's an example from my inventory, a 1951-S MS-66+ full bell lines with rainbow and rim toning: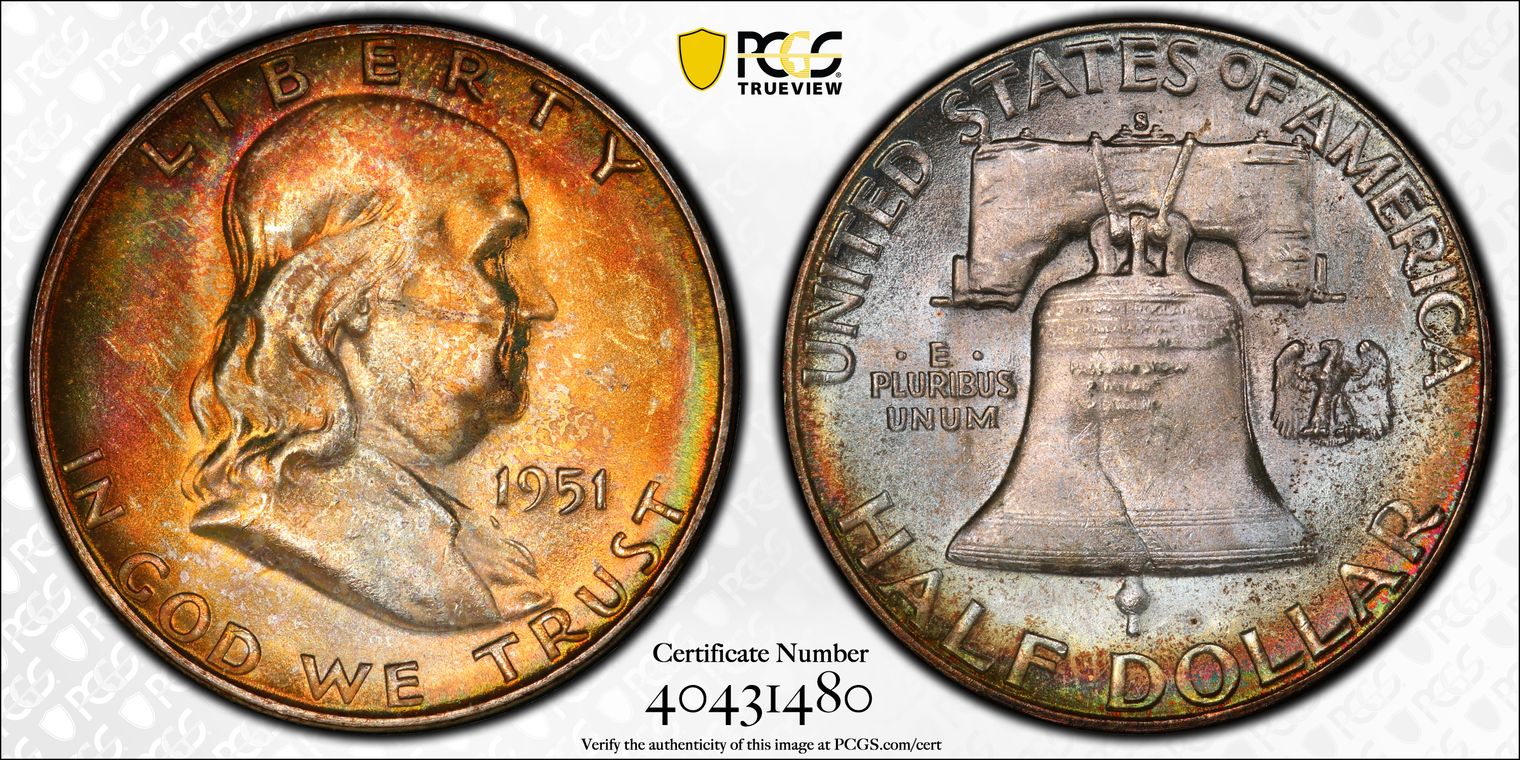 Here's an eBay example purported to be from a 1958 mint set. It's just a Franklin half dollar with little, if any, toning:
Textile and album toning, again, describe what caused the toning.
Textile tones occur when a coin is pressed for a long period of time in a bag or cloth so that it picks up the pattern.
Here's an example: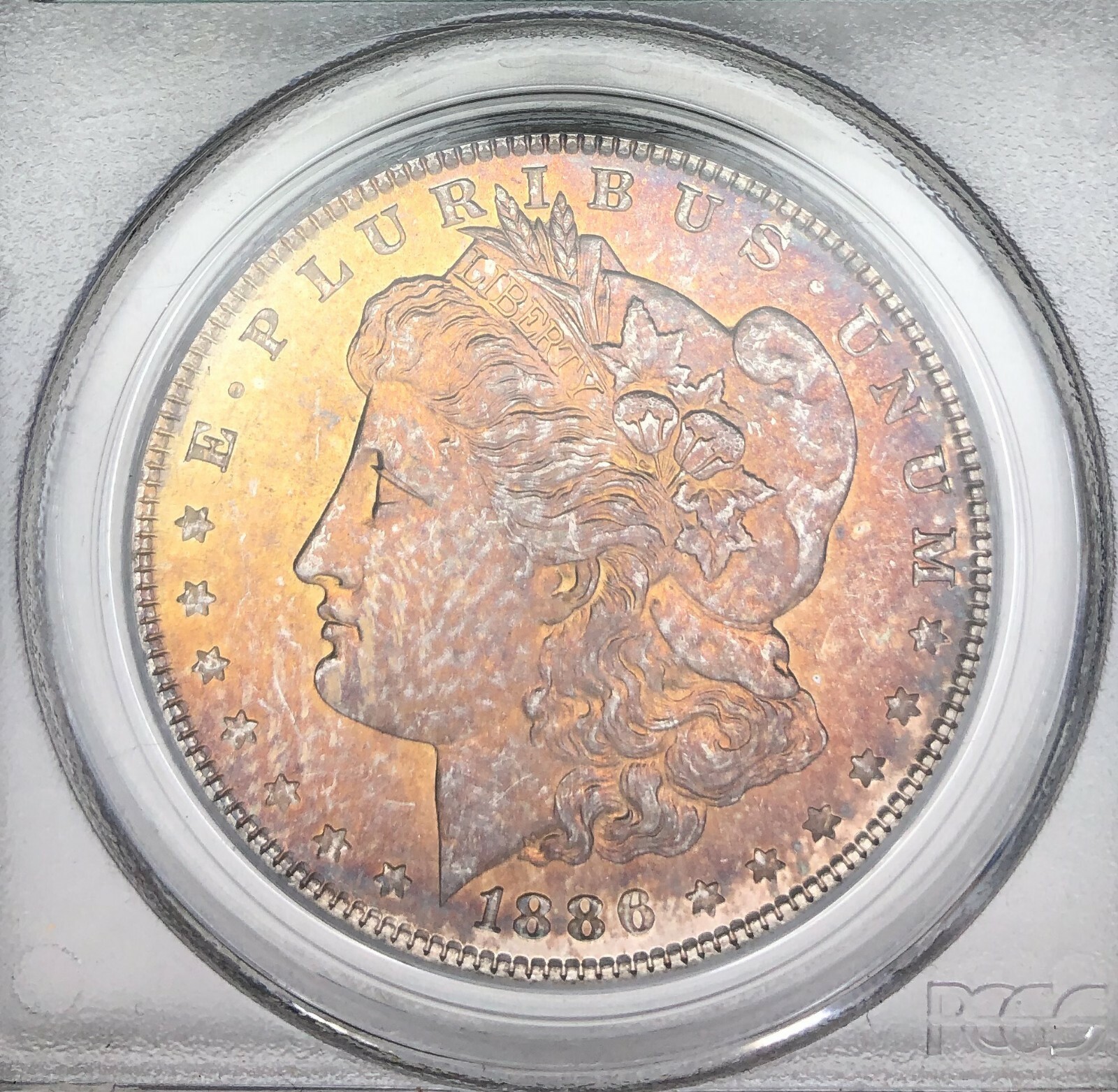 Album toning can create rim tones, rainbow tones, and target tones — basically any of the above major types. The most common are rim and target tones.
Here's a magnificent MS-67 Kennedy half dollar that I plucked from an old cardboard holder: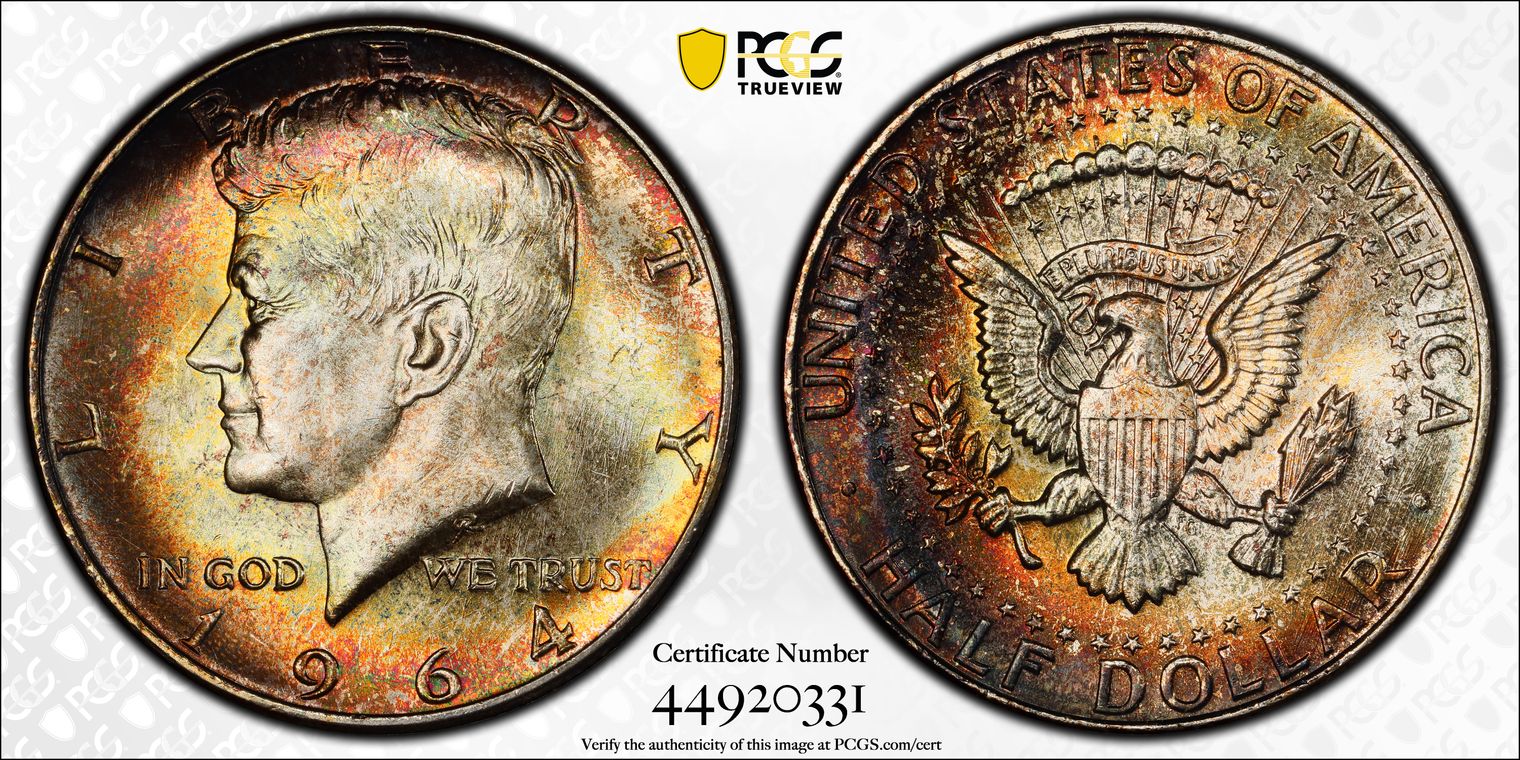 Mottled toning can be caused by a number of factors, such as a coin interacting with a holder's label or with other items in a wooden drawer or cedar box. The term only means uneven or speckled color.
Here's an example from my inventory: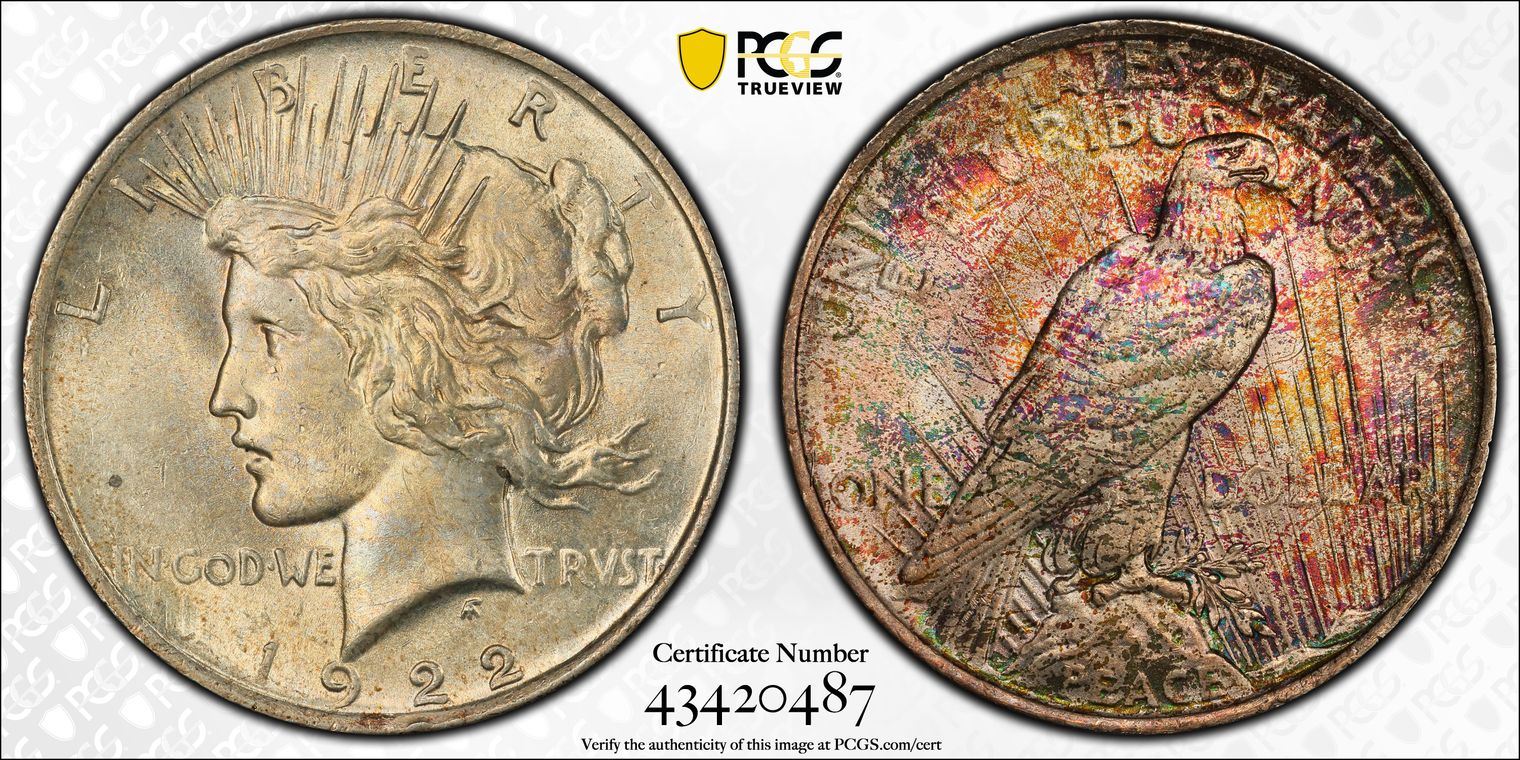 It is important to know the categories of toned coins so that you do not bid or purchase inferior or artificially treated coins. As for sellers, they should use correct numismatic terms so that buyers trust them and their descriptions.
❑