When it comes to online bidding, restraint is essential and encompasses so many things, from reading service terms to identifying flaws in coins.
Platforms are programmed to encourage bids at any cost — no, check that — at your cost. You might search for and then locate a long-sought-after Morgan dollar for your collection, placing a high bid, only to learn afterward that the company does not ship, or requires a wire transfer. Perhaps you patronize eBay with its incessant reminders to make ever higher bids. Or you opt to bid in an auction that has inferior or hyped photos, suffering buyer's remorse when you receive the coins in the mail and can inspect them in your palm.
Even an experienced bidder like me has to practice restraint when first glancing at a desired coin and seeing its condition, tone, or eye appeal. When that happens, I go on red alert. I ask these basic questions:
Are the photos clear enough for me to detect the grade?
What would be my estimation of the grade for the date, denomination, and mint mark?
What's the highest bid I can place after calculating buyer's and mailing fees?
What are recent auction prices for that date, denomination, and mint mark as reported in PCGS CoinFacts.
Are there any detectable flaws that would render the coin ungradable at PCGS or NGC?
That last consideration often requires the most restraint. In this column, I will discuss four coins I almost bid on before realizing they had significant issues.
I am always on the hunt for rainbowed coins. I collect toned Kennedy half dollars and have been fortunate to find some outstanding raw examples, as in this 1964 specimen that graded MS-66 at PCGS: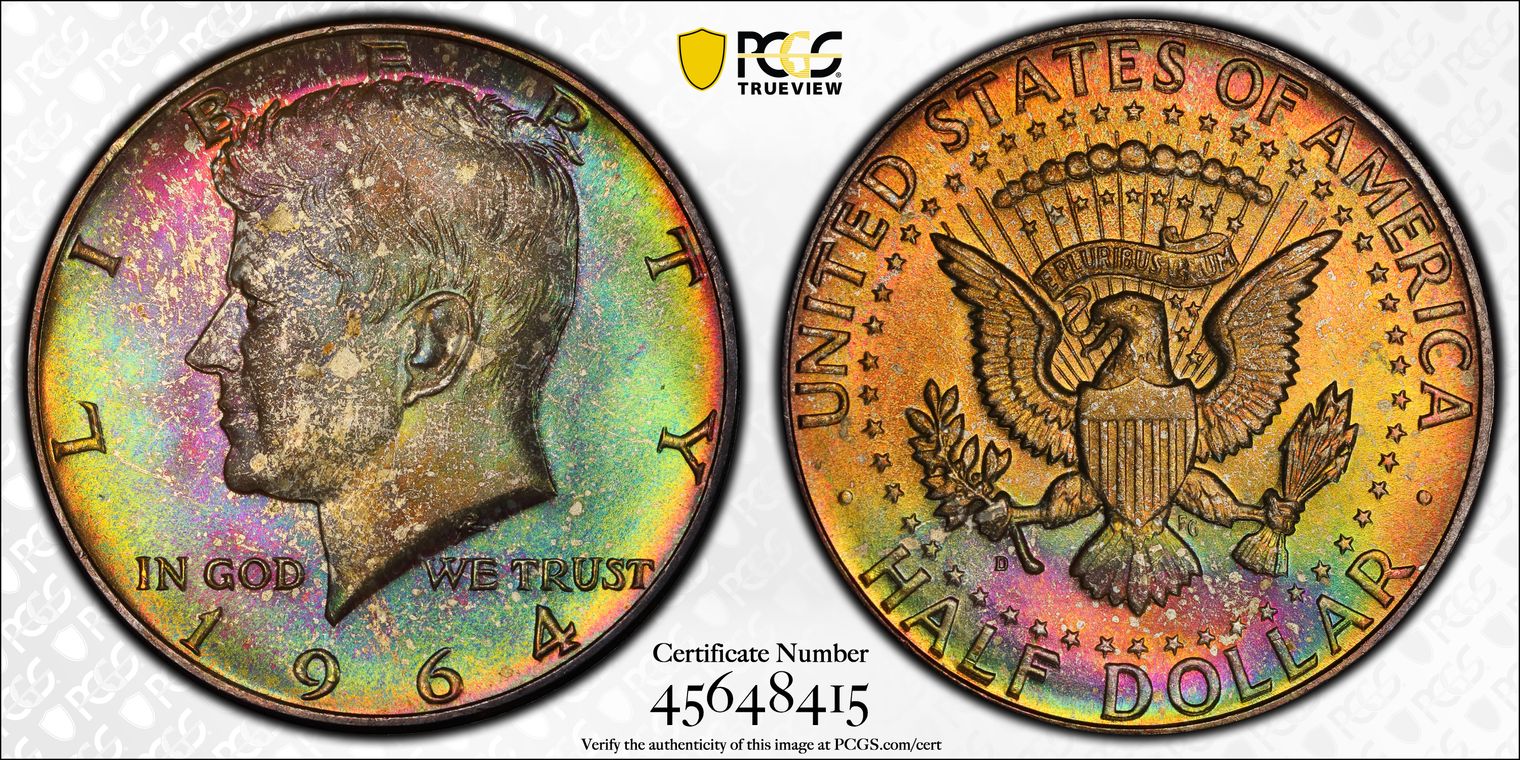 When you luck out on snaring such a coin as this, you are inspired to look for others without necessarily being skeptical.
I was tempted by this 1964 Kennedy half:
It has fantastic rainbow toning on the entire obverse, except on the cheek. So I had to magnify that section to see if I could detect any issues:
Sure enough, there are hairline scratches and other marks, dooming any chance at a grade. I reluctantly had to let this one go.
Soon after, I encountered another wonderfully toned 1964 Kennedy half:
This one had milk spots on the neck, date, and, perhaps, hairlines in the fields. I couldn't immediately tell if these were hairlines or polishing marks made at the mint. As this coin was also offered on eBay, I utilized its feature of holding the cursor near a section of the coin for increased magnification. This is what I found:
Polishing lines usually are more uniform while these are crisscrossed. This looks like early attempts at cleaning with a cloth rather than a chemical. There is also damage to the right of the chin, so I passed over this one.
I also collected older silver commemorative coins and was impressed at this 1893 Isabella quarter dollar.
This coin appeared in a HiBid auction that didn't have any means of magnification. So I downloaded the photo and then magnified it myself with a picture application, only to find hairlines and damage on the chin:
So again, I had to pass up this otherwise attractive Uncirculated coin.
Toning sometimes obscures pin scratches and other problems. So whenever I bid on such a coin, I take my time admiring the patina and detecting whether that obscures any flaws. Take this example:
The rainbow toning here is beautiful. Moreover, this is the scarce 1879-O Morgan with a mintage of 2,887,000, retailing over $1,000 at MS-64. With toning at that grade, we're looking at a significant investment. I'm sure others were tempted to bid on this coin without taking time for adequate examination.
Sometimes toning marks look like scratches, so I had to magnify this coin to investigate the area of the chin. Here's what I found:
That's a pin scratch, so scratch this coin. I would not place a bid.
I look at hundreds of raw coins each day for my collection and for articles here. Sometimes I can go for a week or longer without a bid. The longer I go, practicing restraint, the harder it is not to place a bid. But a professional hobbyist like me also knows there will be better days and to save funds when you find them in the future.
Happy hunting. But take aim with restraint before pulling the bid trigger.
❑