Known for designing one of the most well known and broadly collected coins ever produced in the United States, George T. Morgan is a name that should be familiar to virtually all collectors of American coins. Much has been written about the coins that he designed, most famously the Morgan Silver Dollar, as well as a number of classic commemoratives and many medals struck at the Philadelphia Mint. This article will take a look into the life and work of the man, who can easily be considered to be one of the most proficient engravers ever to have worked at the US Mint.
George Thomas Morgan was born on November 24, 1845 near Birmingham in England. Little is known about his childhood, and it seems that Morgan himself never really cared, since in all United States censuses he was unclear about his birth date. According to him it ranged between 1845 and 1849, depending on when he was asked. He enjoyed his education at the Birmingham Art School before being awarded a scholarship to the National Art Training School in South Kensington, where he studied for a full two years. Of his life in England relatively little is known; he was recommended as a potential candidate for an assistant-engraver position at the Mint to Director Linderman in 1876 by Charles Fremantle, who worked at the Royal Mint in England. Morgan was a person "who has made himself considerable name". Morgan had previous experience with engraving coinage dies, having worked for the private firm of J.S. & A.B. Wyon in Birmingham. The Wyons were an important family that worked as engravers for the British Mint for many years, and Morgan seems to have been highly regarded in his position at that company.
When Morgan came to the United States in 1876 (on board of the Illinois, embarking in Liverpool) as an Assistant Engraver not everyone welcomed him with open arms. Chief Engraver William Barber and his son Charles Edward Barber strongly resisted to the hiring of Morgan, foremost because they saw him as strong competition to the position of Chief Engraver, which would be open after William Barber retired. The Barbers had assumed the position would automatically go to the son, an old English tradition that they obviously were keen on keeping intact. Also, the Barber's had run their private engraving business from their office in the Mint, a situation which was very beneficial for them, but not really acceptable for the government and the taxpayers, who indirectly funded their business by giving them an office on government property. With George T. Morgan's arrival at the Mint, despite his warm welcome by Director Linderman, the Barber's saw direct competition and took an immediate dislike to the 30 year old Englishman.
The resistance between the Barbers and Morgan appeared to have been so strong that initially Morgan worked away from the Mint grounds in a private room. Eventually Mint Director Linderman summoned William Barber to make space in the Mint for Morgan, but this was not until some time later. William Barber passed away in 1879, and was succeeded by his son, who would remain Chief Engraver at the Philadelphia Mint until his death in 1917. After Charles Barber's death, it finally was Morgan's turn, and he would serve in the position of Chief Engraver from 1917 (when he was already 72 years of age) until his death in 1925.
Going back to the time just after his arrival in the United States, Morgan enrolled in the Academy of Fine Arts after coming to Philadelphia, where his talent was soon noticed. Within a year of Morgan's arrival in Philadelphia a large number of patterns with his designs were struck, mostly proposals for a new silver dollar. His design, with Ms Anna Williams serving as a model for the obverse and an American Eagle for the reverse, would become the Morgan Silver Dollar. It had first been struck in half dollar size as a pattern in 1877, and while the media was not too enthusiastic about the design (which, we might add, they almost never were) the coin's design is well respected to this day. While contemporaries of the day seemed to have preferred William's Barber designs for the new Silver Dollar, it was Mint Director Linderman who had taken a personal liking to Morgan, and who eventually decided that it was Morgan's design which was to be used for the new silver dollars. This design (with some minor modifications) would be struck from 1878 to 1904, and again in 1921, before it was replaced by the Peace Dollar.
Morgan did much more than design America's most famous silver dollar. Besides a large number of pattern coins (including smaller denominations with his silver dollar design struck in 1879, which unfortunately never made it to circulating coinage) he also designed several classic commemoratives. These were first struck in 1892, the same year that Charles Barber's Liberty Head design appeared on the dime, quarter and half dollar, despite criticism from a number of people including Morgan.  The first commemorative was issued for the World's Columbian Exposition held in Chicago in 1893, and featured a reverse design by George T. Morgan, a coin that was struck in both 1892 and 1893. It featured the Santa Maria, one of Columbus' ships, although it is an artist impression, since no contemporary images have survived of the ship. Morgan's design also featured two globes, displaying both Europe and the Americas. Interestingly enough the obverse (a portrait of Columbus) was designed by Charles Barber.
In 1903 the first gold dollar commemoratives were struck, a denomination that had not been struck for circulation since 1889. It commemorated the centennial of the Louisiana Purchase with two different designs, one with the bust of Thomas Jefferson, the other with the bust of William McKinley. Morgan's involvement with this coin design is somewhat unclear. Most sources credit the work to Charles E. Barber, assisted by George T. Morgan, although it is unclear if Morgan just gave advice, or if there was more involvement from his side.
The younger Barber and Morgan collaborated on a number of issues, although even in the 1910's when both men were in their sixties the relationship was never warm. The next collaboration occurred in 1915, for the Panama-Pacific Exposition held in San Francisco that year. The half dollar commemorative issued featured again an obverse by Charles E. Barber and a reverse by George T. Morgan. Morgan's design featured an American Eagle, similar to his design on the Morgan Silver Dollar, although this eagle is standing on a shield. Two branches, one oak and one olive, can be seen on both sides.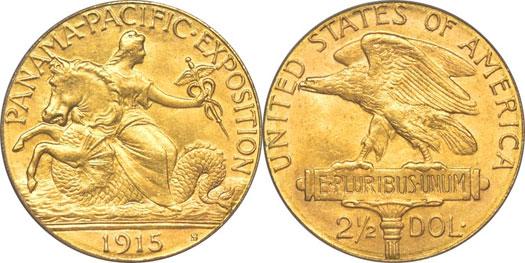 For the quarter eagle commemorating the Panama-Pacific Expo (a collaboration between Charles Barber and Morgan as well) Morgan used a design he had created decades earlier, when he had just come to America and which had been struck on an 1877 dated pattern half dollar. It shows a sideview of an American Eagle with raised wings, standing on a standard that shows the motto "E PLURIBUS UNUM".
The 1916-17 gold dollars commemorating the completion of the William McKinley memorial would be the final commemorative co-designed by Barber and Morgan. Morgan's reverse featured the face of the memorial, which was erected in Niles, Ohio. Niles was McKinley's birthplace. Both the 1916 as well as the 1917 issue share the same design, with McKinley's portrait by Barber on the obverse.
As we have mentioned previously, after Charles Barber passed away, George T. Morgan finally became Chief Engraver of the United States Mint. In that position he designed the obverse of the 1918 Illinois Centennial Half Dollar (also known as the Lincoln half dollar), the reverse of which was designed by John Ray Sinnock. Morgan's design featured a bust of Abraham Lincoln, based on a statue erected in Springfield, IL which has been created by Andrew O'Connor.
George T. Morgan would design one more commemorative, the 1924 Huguenot-Walloon Tercentenary. It would be the only commemorative half dollar solely designed by himself, although it was slightly modified by James Earler Fraser before it went into production. It shows the conjoined busts of Admiral Gaspard de Coligny and Prince William the Silent on the obverse, and the ship Nieuw Nederlandt (New Netherland) on the reverse. Struck a year before Morgan's death, it would be the last coin bearing his design to be struck during his lifetime. Morgan's reverse design of the popular Morgan Silver Dollar would be struck again (albeit slightly modified) in 2005 to raise money for the restoration of the San Francisco Mint, and several private issues have been struck of designs sketched by him but never struck in coin format when Morgan initially created them.
Morgan also designed many medals, which are too numerous to all list here, but are still extremely interesting and often feature beautiful designs. Among these are medals issued for the 1883 Chicago Railway Exhibition, the 1885 Grant Memorial, the 1887 Centennial of the Constitution, numerous Presidential medals, as well as many others. These medals are generally quite affordable, and are a great way to look further into the designs of the man we know best by his silver dollar design. George Thomas Morgan passed away peacefully, after a few days of sickness, at his house in Philadelphia on January 4th, 1925 at the age of 79. His designs, however, endure and remain popular to this day, and his work is now considered to be among the most artistic of all American coinage.