Since the earliest coinage, most coins that have been produced for circulation have been struck in a bimetallic composition. In fact, the earliest coins ever produced, in modern-day Turkey were struck in a composition of gold and silver, called electrum, which was found naturally as such in that area. In more modern times, base metals (in particular copper) have been added to gold and silver to make the coin harder and thus more durable.
In modern numismatics a bimetallic coin is generally defined differently. If you were to ask a collector what bimetallic coins are, he or she is most likely to reply "a coin with two different metals visible" or a similar remark to that extent. Most modern bimetallic coins have an outer ring of one metal and an inner ring of another metal, generally distinctively different in color and appearance from each other. Experiments with bi-metallic coins date back to as early as the 18th century (technically the 1792 "silver center" cent is a bi-metallic coin) but the process did not become more standard until recently. Bi-metallic coins were first introduced in Italy in 1982 for their highest denomination coin, the 500 lire. Other countries soon followed, including North-America, when Canada introduced their bi-metallic two dollar coin in 1996. When the Euro was introduced in 2002, it contained two bi-metallic coins, the 1 euro and the 2 euro. Bi-metallic coins have gained in such popularity that now more than half of the countries in the world have struck bi-metallic coins, whether for circulation or for collectors only.
The striking process for bi-metallic coins is obviously somewhat different than conventional coins struck in one metal. While methods differ from country to country, generally the two parts (inner piece and outer-ring) are produced separately without any design and then joined together during the striking process. Obviously a lot of pressure is required for this process and manufacturers claim that it would be impossible to separate the two pieces without destroying the coin because upon striking the metal flows together. The author, however, has seen both one and two euro coins which were separated after striking, both accidentally and on purpose, without damaging either piece to a great extent. Such occurrences, however, seem to be limited and are generally denied by the authorities for obvious reasons.
2000 Library of Congress Gold and Platinum Bimetallic Coin
Even though bi-metallic coins have increased in popularity over the past few decades, the United States has only struck one bi-metallic coin. The ten dollar commemorative of  2000 which was issued to commemorate the 200th anniversary of the Library of Congress holds the distinction of being the only bi-metallic coin every struck by the United States Mint. Meant for collectors only, its outer ring has a composition of 90% gold and 10% copper while the inner ring is 99.5% platinum. Both pieces weigh little over quarter of an ounce (.28 each) with a total weight of 16.259 grams, just a little bit over a half troy ounce. At first glance the design elements seem to be limited to either the inner ring of gold or the inner piece of platinum, but the obverse torch goes from the inner piece into the outer ring.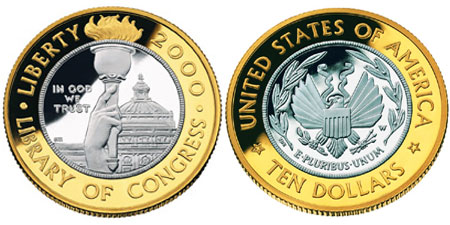 The 2000 Library of Congress $10 Coin was designed by two people: the obverse by John Mercanti (known, among other things, for his reverse design employed on the American Silver Eagle series since 1986) while the reverse is designed by Thomas D. Rogers Jr. Featuring a torch and the Library of Congress on the obverse, the torch which is said to be held by Minerva, the Roman Goddess of poetry and wisdom.  The reverse features a laurel wreath with an eagle with a ribbon in its beak and a shield on his breast, holding a laurel branch and a bundle of arrows in its claws.
There does not seem to be any particular reason for making exactly this coin the first and so far only bi-metallic coin of the United States. It is one of a relatively limited run of ten dollar commemorative gold pieces (most gold commemoratives are of the five dollar denomination) and it could have been any other commemorative to receive the bi-metallic honor. This commemorative issue (together with its counterpart, a silver dollar issued at the same time) was authorized in 1996, with maximum mintage for both the uncirculated and proof varieties set at a total of 200,000 pieces. While this might seem relatively low for such an unusual issue sales were subpar, even for modern commemoratives. The final mintage reached just 7,261 uncirculated pieces and 27,445 proofs.
Since the pieces were sold at the Mint they have increased in value, particularly the uncirculated version, which has one of the lowest mintages of any of the modern commemoratives. With an original issue price of $380 ($405 for the proof) not only has the intrinsic value of the gold and silver increased drastically since its release, collector interest has increased as well, and the uncirculated version now sells for as much as 10x the original issue price (especially in MS70, while coins in original government packaging sell for a little bit less). The proof version is somewhat more affordable, but because of its unique status it is still more expensive than other commemoratives with similar mintages.
It's up to anyone's guess when the United States Mint will release its next bi-metallic coin. So far it seems unlikely that any of the current circulating coins will be replaced with a bi-metallic version. Likewise it does not appear that the Mint has any plans at this time to release another bi-metallic commemorative coin.