Whenever I have a question about a California gold coin, token, replica, souvenir, or charm, I always check Mike Locke's California gold website, as he is the foremost expert on these tiny issues.
I had identified the NGC tokens using his website, placing a bid of $150 on the lot of seven. It sold for close to $4,000 with buyer's fee.
I was shocked. I knew that these inexpensive tokens were selling for outrageous prices, based on the lack of bidder knowledge; but this was the worst example I had ever seen since covering more than a decade of eBay, Proxibid, HiBid, LiveAuctioneers, and other online auction sites.
I sent the above information to Locke, getting this response:
I think the consignor who sold those tokens is a very happy customer. Those tokens are nominally worth $30-40 each raw. Certification costs $50-70 each.
Here's a close-up of one of those coins:
Locke added, "Also note that the 'WREATH 4b' designation on the NGC slabs is the system on my website, a system that I invented."
I sent Locke other tokens and misidentified lots selling on HiBid.
He identified each one.
Brass Token
"This is a Daniel Hurkett token, brass and struck in 1966 in very large quantities," Locke stated. "Osborne Coinage struck them. They are still in business and still have the dies. I literally have (small) buckets of them on my desk."
1920 Token
According to Locke, "This is an earlier token issue from circa 1920. It appears to be gold and has a modest value, but certainly not $300."
Plated Italian Token
"This is a gold-plated token that was made in Italy circa 1970," Locke said.  "They are worth a couple of dollars. Some are countermarked ITALY; some came in a display case that explains the origin."
Locke emphasized that under the coinage act of May 1864 (still in force), it is illegal to claim a dollar value for token issues. "That law was first enforced relative to California gold coins in 1869," for a non-denominated token advertised as "specie." Locke said a crackdown ensued in 1882-3, "putting a halt to using the word DOLLAR on private issue California gold coins."
Locke noted that Fractional gold coins are technically not coins in as much as their value was not supported by a bank or government. He uses the term, "California Small Denomination gold."
Stop Misidentifications
Viewers of Coin Update have read my own several pleas to call out auctioneers who sell inexpensive tokens and replicas. When I do, I sometimes get a testy response, as I did when reporting that this lot was not a California gold coin.
I wrote the auctioneer that every word of the lot description was wrong. It was not genuine. Not from 1857. Not from California. Not gold, but probably plated. Not a coin. And definitely not worth between $500-$1,000.
The auctioneer emailed me a heated response which, for brevity's sake, I will paraphrase. He stated that "this is gold, professionally tested," adding that "you are blocked to avoid the issues you would bring to the table."
For the record, Locke identified the above token, struck by Osborne Coinage for Daniel Hurkett in 1966. "All that were struck are brass. Some were gold plated after they were delivered."
Everyone has a responsibility to note erroneous descriptions in online auctions.
For starters, the reverse of a California Fractional gold coin has a denomination on it, such as 1/4, 1/2, and 1 DOLLAR. The word "dollar" is sometimes abbreviated as D. or DOL. These coins also have been chronicled in California Pioneer Fraction Gold by Walter Breen and Ron Gillio. The various coins carry the identifier BG ("B" for Breen and "G" for Gillio), plus a numerical identifier.
Recently I won this rare rainbow-toned $1 fractional gold coin, listed as "BG-1205."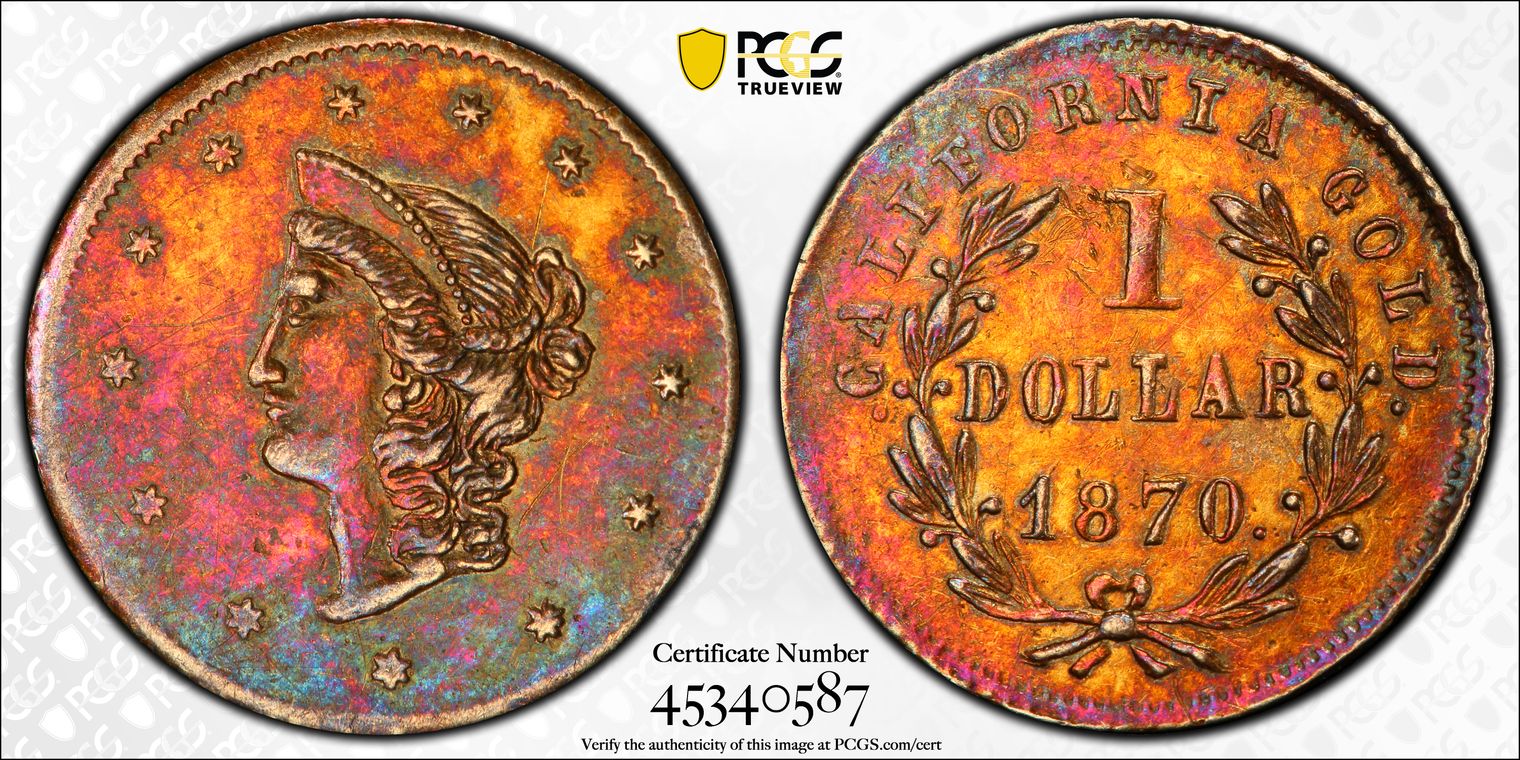 To identify a specific California gold coin, I use PCGS CoinFacts' comprehensive list, which describes values and survival rates. PCGS estimates that only 80 of the above coin survives, and I wager I have the most colorful one!
If you want to learn more about California Gold, not only to call out replicas but also to immerse yourself in these lovely issues, do check out Mike Locke's website. I often just go there to take in his consummate knowledge.
The downside of studying Locke's page and learning more about genuine California Fractional gold is the impulse to call out auctioneers and consignors who are making a mint (pun intended) selling tokens, souvenirs, counterfeits, and replicas for grossly inflated prices.
❑