Sheena Wallace of
Stagecoach Auctions
, one of my long-time favorite auctioneers, asked me a fundamental question in a recent discussion about issues in online coin auctions, wondering whether new hobbyists really understood bidding basics.
1. Always read the terms of service. You'll find important return policies, shipping costs, pre-approval for credit cards, and other rules you must obey when you click "I agree."
2. Bid cautiously, or not at all, if the terms of service state that the auctioneer has access to maximum bids or can "ghost-bid," allowing the auctioneer or an employee to increase the bid.
3. Never give your credit card information to an auction house. While the company may be trustworthy, you may never know who has access to the computer.
4. Never give your credit card information to a third-party shipper. If a package with your coins is lost, the portal cannot help you because it is in the hands of another company with its own set of customer service rules.
5. Never believe the value, grade, or condition on the flip. Treat each raw coin as raw.
6. Treat as raw self-slabbed coins in professional-looking holders replete with corporate-sounding names and logos.
7. Do not place a bid if the pictures are subpar, hazy, dark, over-exposed, out-of-focus, or only show one side of the coin.
8. Cease placing bids if you had a bad experience with a company's online practices.
I would amend some of these practices now, primarily because auction houses have improved their firewalls and online practices, minimizing risks. For instance, many auction houses, especially on HiBid, ask winning bidders to phone in or email credit card numbers. Some also ask winning bidders to contact a third-party shipper to mail your lots. Proxibid posts a notice if sellers have access to maximum bids or can place bids themselves. You have to contact HiBid auctioneers personally to get that information.
Now, I call in my credit card data to trustworthy houses but never email them. I will agree to third-party shippers if the auctioneer has a process to ensure that those companies get the correct winning lots. I won't bid in the absence of such a process. Again, this usually means a call to the seller if the information is not provided in the terms of service.
Nevertheless, these and other aspects of bidding online can seem intimidating to new bidders. Sheena Wallace has some useful recommendations to ease those worries, beginning with what an auction actually is and why people bid there rather than buy coins retail.
"From a bidders perspective, auctions are a means to find rare, hard-to-find items," she says. "They also are a wonderful source to find 'steals and deals' — that is, if you are the winning bidder."
This is precisely why I mainly bid on raw coins in online or estate auctions.
The beauty below came in a 1951 double mint set. I paid $600 for the lot. This coin graded MS-66+ FBL, with only 16 higher for the "S" mint mark, retailing for $1,900.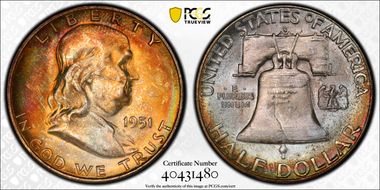 These two coins from the same double mint set also graded well. The 1951-P below graded MS-66 FBL, worth $475.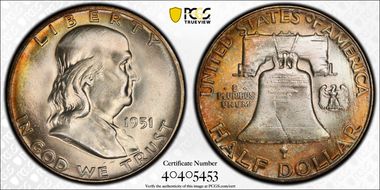 This beautifully toned 1951-S half graded MS-66, retailing for $175 (but probably worth hundreds more because of the patina).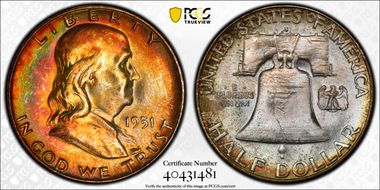 Despite these successes, viewers of Coin Update know that I sometimes do not spot flaws on coins until I see them in my hand, usually because photographs are subpar or descriptions are misleading. With eBay, I can return those lots if the seller accepts that in the terms of service. But with online auctions on HiBid, Proxibid, and Live Auctioneers, among others, all sales are final.
I accept that.
That's why it is important to read the terms of service before ever placing a bid. "Companies post them," Wallace says, "so you know how that auction will be operated. Auction company's terms are based upon the needs of their consignors and their own needs and can make dramatic changes to their terms and conditions from one auction to the next."
That last sentence is especially important. I bid regularly at Bauer's Auction Service and last year won coins totaling $650. When contacted, I asked that the company charge my card as usual. But since my last successful bids there, the terms had been changed. Credit cards were not accepted when total winnings exceeded $600. I had to send a personal check and wait for that to clear before my coins could be shipped.
Wallace also recommends that you read and agree to payment terms and options. "If a buyer wants to pay in another method or change pick up or shipping, they should contact the auction house prior to the beginning of the session." Waiting until after the auction concludes may entail additional delays or fees.
"Additionally," she notes, "after an auction has begun, the company may not answer the phone as they are focused on running the session."
Shipping terms are especially important. "Expecting a company to ship to you when they clearly state shipping is not available will mean you will be wasting your time and the company's time by bidding in that auction. They will not ship the items to you. There are some companies that will not ship for any reason to anyone."
Bidding in an auction is a legally binding agreement. It is the bidder's responsibility to understand the terms and conditions prior to placing a bid. Auction companies have been known to take people to court to receive payment for money owed by non-paying bidders.
That is why you should make sure you know what you are bidding on and how much you can spend. "Placing a high bid on an item and then asking a question, such as 'is that damage to the rim or a shadow,' may lead to a disagreement," Wallace notes. "The auctioneer may refuse to remove your bid. Auction companies are reluctant to remove bids once placed, especially after the item has hit the block and the hammer has fallen."
Wallace also acknowledges that bidders can make mistakes online, and a reputable house like hers understands that. For example, if you wanted to place a prebid of $10 and accidentally placed a $1,000 maximum, contact the company immediately. Do not wait until after the auction to dispute your winning bid.
Each auction plays by its own house rules. Consider that erroneous bid above. You check your lots and suddenly realize that your maximum $10 bid has been surpassed and now is $80, with two days left before the live auction begins. And you're the leading bidder! That has happened to me with Wallace's Stagecoach Auction, and she understood my mistake and removed the bid. But when a similar situation occurred in another auction, the company agreed to remove my $1,000 maximum as long as my current $80 winning bid remained.
In the above hypothetical case, that would mean I would have to pay the high bid of $80 if nobody outbid that when the hammer fell.
High bids keep auction companies in business. "Expect other bidders to potentially outbid you," Wallace says. "Calling to complain that another bidder outbid you will fall on deaf ears. If you took the time to read the terms and conditions, you will know the bidding time frame. Meaning just because you put in a bid of $25 on a Morgan does not mean that no one will come after you and outbid you."
While you can usually place bids in online auctions at all hours of the day, remember that companies have their own hours of operation. "Auction companies typically do not have 24-hour call service."
Time is money. "Once one auction is complete, auctioneers are already focused on the next session. Do not bid with money you do not currently have. Auction companies cannot wait for your next paycheck."
If there is a problem with an item won in an auction or with items damaged in shipping, Wallace recommends contacting the auction company immediately. "Waiting months to inform an auctioneer will result in a delayed response, if you ever receive one."
Even though I patronize eBay, I realize that this company operates much differently than online auctions on HiBid, Proxibid, or Live Auctioneers. Unlike eBay, some of those latter sessions have in-house bidders when auctions go live, so your maximum may be outbid, even if it didn't seem so online. Also, on eBay, seasoned bidders use sniper services to snag a coin in a timed auction. You can't do that in almost all online and estate auctions.
"Live auctions will close lots at a different pace depending on the auction company or auctioneer," Wallace advises. "Industry standard goal is to close two lots per minute and attempt to keep auctions under four hours. Some auctions are run much faster or slower depending on the company and the amount of live bidding."
Paying for winnings in a timely manner is important. Some auction houses will charge your card immediately after the session. "If you register with an online auction, many companies will use the card to process your payment," Wallace says. "Many first-time bidders purposely register with a card that will not make payment. Some auction houses will charge you an extra fee if they have to track you down for payment."
Of course, you may encounter more issues not covered here if you decide to bid online. Wallace has covered the basics here. There are always new issues and revised practices. Keep reading Coin Update for that, and, as always, feel free to advance the discussion in the comment section below.